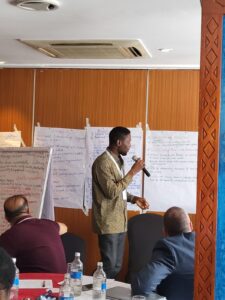 On March 14-15, Spaces for Change |S4C participated in a two-day consultative meeting in Nairobi, Kenya, aimed at developing a shared set of peacebuilding priorities to inform the United Nations Secretary-General's New Agenda for Peace (NAP) scheduled to be launched in June 2023. The meeting organized by Saferworld, Interpeace, and the Life & Peace Institute, brought together thirty (30) representatives of community-based organizations, national and international organizations from 18 countries in Africa and the Middle East.
During the meeting, participants discussed the threats to peace, stability, and security in their respective contexts. Despite the contextual differences in the political, social, and economic architecture of nations, the reported threats to civic freedoms which are largely undermining peace and stability were strikingly uniform.  Some of the uniform threats include the increasing use of restrictive legislation to limit civic space, smear campaigns against civic actors, securitization of responses to conflicts, and the impact of climate change on peacebuilding efforts. In light of these uniform challenges, it is important for the New Agenda to uphold respect for human rights  as an essential principle undergirding international responses and frameworks for addressing threats to international peace and security. Disregarding human rights in conflict interventions has hindered peacebuilding efforts and severely curtailed citizens' right to speak, assemble, and express themselves freely in situations where their voices are most important.
As lessons from Nigeria and other developing countries demonstrate, peace does not thrive where socio-economic and governance challenges prevail. Therefore, S4C advocated for the the New Agenda for Peace to accentuate good governance, social and economic development as a necessary condition for peace, especially in developing countries. The grievances of armed groups in the North-east, South-east, and South-south of the country stem from the surging local discontent with the massive underdevelopment and marginalization of those regions. For instance, the armed conflict in the South-south region was driven by the uneven sharing of benefits from natural resources, which led many young people to join armed groups in search of social and economic opportunities. In addition, the inclusion of  marginalized groups such as women and youth in peacebuilding processes is imperative.  
Other recommendations for the New Agenda for Peace include the codification of commitments to promote and protect civic space as a fundamental priority for peace. This requires serious commitment and effort by the United Nations to create opportunities for civil society to engage and participate safely and meaningfully in national and international peacebuilding processes. Additionally, the UN should strengthen its mechanisms for empowering and encouraging civil society participation in decision-making within the UN system. The New Agenda for Peace should prioritize the participation of a diverse range of civil society actors, especially women and youth organizations, in all aspects of the UN's work, both in-country and at the headquarters.
The meeting further revealed significant similarities in the expectations of civil society organizations regarding participation in the entire NAP framework development and implementation at all levels. Participants were encouraged to adopt these broader trends and recommendations to develop new advocacy strategies for engaging multilateral regional platforms such as the African Union to push for inclusion and participation in policy development and implementation in their respective contexts. The recommendations generated during the two-day consultation will be incorporated into the United Nations Secretary-General's New Agenda for Peace during the United Nations high-level 'Summit of the Future' in September 2024.