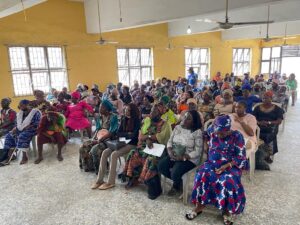 In commemoration of International Women's Day 2022, Spaces for Change | S4C in collaboration with the Communities Alliance against Displacement (CAD) organized a one-day workshop, themed, Breaking the Barriers of Gender Inequality in Housing and Urban Development. The workshop brought together over 200 participants drawn from over 25 informal communities in Lagos and stakeholders from the Lagos State Mortgage Board, Lagos State Urban Renewal Agency, Lagos State Internal Revenue Service. It was an opportunity for residents of informal communities popularly known as 'slum dwellers' and state officials to collaboratively explore ways of incorporating gender perspectives into the design and implementation of housing and urban development policies and programs.
In his welcome address, Anthony Ogbolu, S4C's Research and Policy Analyst, Anthony Ogbolu, lauded women for standing tall as important agents for change and development despite their longstanding marginalization in key socio-cultural, political, economic, and development arenas. Lack of capacity and knowledge was cited as the main reason for the exclusion of women. Mainstreaming women's needs into housing and urban development policies and programs has proven to be beneficial in developing
sustainability for women, the communities in which they reside and the state as a whole.
Dr. Esther Thontteh, a strategy specialist in land affordability and sustainable housing development delivered the keynote address. The keynote emphasized the need for women inclusion in policy-making processes vis-a-vis women participation in politics. Women in informal settlements are not just underrepresented in decision-making, but are also, disproportionately excluded from land and housing benefits.  It further recommended a targeted, systematic, and far-reaching strategy to increase women's participation in urban governance.
The panel discussion, moderated by Kenny Aderogba, S4C's Community Relations Officer, elucidated the  obstacles to women's access to  affordable housing. Top on this list is lack of access to information about government processes and procedures for benefiting from housing schemes. Existing initiatives like the Lagos Home Ownership Mortgage Scheme (LagosHOMS) aims to provide adequate housing for low- and medium-income earners. The Lagos State Mortgage Board (LMB) administers Lagos HOMS. The eligibility criteria for government schemes like LagosHOMS are often too high for women to satisfy. For instance, applicants are expected to have a verifiable means of income; be credit-worthy and able to pay upfront, 30% of the value of the house they intend to purchase. Most low-income women are unable to meet this criteria. The efforts of successive administrations of Lagos State to bridge the housing deficit in the state has not been effective because of  limited resources such as land and funds. Not only that,  state-sponsored displacement is rife in the informal settlements and women bear the brunt of the resulting homelessness. Slum areas are often targeted with mass evictions carried out in the name of urban regeneration while upgraded areas are gentrified and no longer affordable to the original owners. Women are worse off when their breadwinners lose their homes in this manner.
Tax is one of the preconditions for benefitting from some of the various housing schemes in Lagos State (e.g. Rent-to-own). Under the federal tax laws, entrepreneurs who earn less than (N30,000) Thirty Thousand Naira are exempted from paying
personal income tax. However, at the state level, different rates and levies are being imposed on the goods and services hawked or sold by this category of low-income earners that earn below N30,000. These rates and levies are neither properly structured nor legally documented or recognized as tax payments at the state level. Many residents of slum and informal communities fall within this category and as such, rarely benefit from various government housing initiatives.
To bridge this gap, the Directorate of Informal Sector and Special Duties (DISSD) was established to enlighten taxpayers on voluntary tax compliance, with a focus on widening the tax base especially within the informal sector. Bairat Akin-Bashiru, representing the Lagos State Internal Revenue Service, enlightened that the annual tax payable for the year for the lowest level trader in the informal sector is 8100 Naira. There are different payment options available for the convenience of traders. Upon completion of payment, a tax ID card will be issued  within 3 working days. Having the tax ID card has several advantages like making a person eligible to apply for government loans, government housing programs, enroll children in public schools, etc. To simplify the process of tax compliance in the informal sector, LIRS is currently running an initiative called "Ibile". The "Ibile" strategy is an electronic platform representing the Lagos divisions: Ikorodu, Badagry, Ikeja, Lagos, Epe (IBILE) to attract more net taxpayers. Again, women hardly benefit from these schemes due to low awareness about how to access these tax incentives.
During the interactive session, large numbers of women in the room asked many questions pertaining to the affordability of government housing schemes, the penalty for payment default and the owner-occupier policy, among others. Representatives from the Lagos State Mortgage Board, Lagos State Urban Renewal Agency, Lagos State Internal Revenue Service took turns to answer these questions. Mrs. Olabisi Williams, CAD's Vice President specifically sought to know the steps agencies like Lagos State Urban Renewal Agency are taking to protect women from the adverse effects of state-sponsored displacement. LASURA's Tlp Tola Oginni and Tlp Bunmi Alugbin reiterated LASURA's commitment to ensuring compliance with human rights principles and international best practices. According to Tlp Bunmi Alugbin, the current administration is not keen on forced evictions and mass clearance, but instituted regeneration. Once a community is labeled as blighted, informal or slum, LASURA makes provision for resettlement of occupants. Once occupants are resettled, the community is upgraded to an enabling environment that is fit for living. Upon completion occupants are moved back to their abode. This approach has been practiced at IKOLA and hopes to be replicated in Otto and Otumara. Going forward, the urban renewal program would not take place without a concrete resettlement plan vetted by all
stakeholders concerned. LASURA is currently reviewing its policy to promote women's participation and inclusion in urban governance.
At the end of the workshop, stakeholders and participants agreed there is a need for more targeted workshops and outreaches to disseminate information regarding government plans, schemes and programs that benefit women. Government representatives encouraged participants to listen to government radio stations as a means of getting regular updates about the various state programs and opportunities.