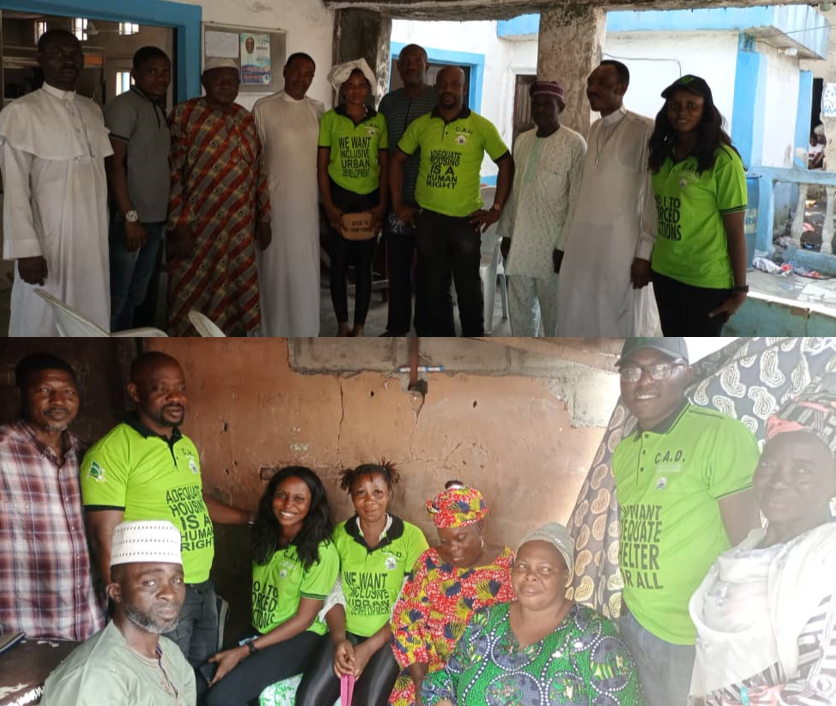 Determined to deepen the bonds of solidarity among Lagos informal communities threatened with forced displacement, the technical working team (TWT) of the Communities Alliance against Displacement (CAD) embarked on an exchange visit to member communities—Toluwani, Otumara, Ifeoluwa and Ifesowapo—in Lagos Mainland Local Government Area of Lagos State facing constant threats of gang violence, blocked drainages, waste-dump hills compounded by the chronic absence of basic services like sanitation and electricity. Since it was formed in March 2017, CAD has launched series of policy and litigation campaigns demanding reparation for land dispossession and improvements in access to basic amenities and housing/living conditions in their various member-communities.
Welcoming the TWT led by CAD president, Seinde Ebiesuwa and S4C's Community Relations Officer, Kehinde Aderogba to their community, the Baales and local residents from the four communities tabled a wide range of infrastructural challenges and social vices requiring immediate government intervention. The major challenge is flooding caused by the indiscriminate dumping of refuse in the drainages. All efforts to clear the drainage channels have proved abortive as the channels continue to be blocked with heaps of debris.
In mitigating the effects of flooding, the Lagos State Government has adopted various strategies such as the expansion and upgrading of the primary drainage facilities within the city's central parts, the periodic removal of debris from primary drainage facilities through the Ministry of the Environment, and more often, the demolition of homes. The flood-induced demolitions often target the homes of the urban poor living in the low-income communities that are flood-prone. In order words, the persistent flooding is making Toluwani, Otumara, Ifeoluwa and Ifesowapo communities easy targets for government-ordered mass demolitions as was the case in Agege and Ijeshatedo communities in August 2011 and Ijora-Badia community in 2010, 2012, and 2013.
The TWT shared ongoing plans  to introduce waste recycling projects into CAD member communities. The project, themed, Waste2Wealth will avail member communities the chance to exchange their wastes for items and materials for the benefit of each community while also mitigating the possibility of disease outbreak within the communities. The project will commence in January 2021 with community education on separation of wastes, the benefit of recycling, and environmental sensitization exercises.
Elated representatives of these communities vowed to give their full cooperation and to comply with all given regulations to make the environment a healthier and cleaner place for everyone to live in. For other long-term actions, CAD seeks to continually engage the government on the need to adopt proactive measures against flood control and ease the process of land acquisition for persons residing in these flood-prone, low-income communities.