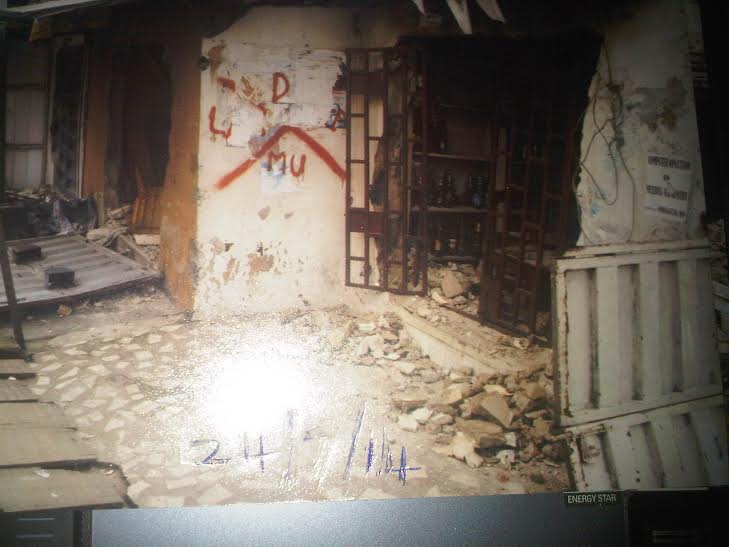 Spaces for Change is offering free legal aid to 65 year old Mrs. Elizabeth Farimade. On the 14th of August 2013, officers of the the Technical Service Department (TSD) of the Ministry of Physical Planning served our client a contravention notice, directing her to report at their office within 48 hours. Our client reported at the said office where she learned that the contravention notice was prompted by a complaint by a neighbor claiming that our client's property, located opposite Majolate primary school, Odi Olowo Ilupeju Mushin blocked the right of way into his premises. He further claimed ownership of the portion of land leading to his property.
After an intense deliberation at a meeting held in September 2013, our client was requested to produce copies of her title deeds, duly certified by the Ministry of Lands. Our client complied with this request, and furnished the TSD with this document and other documents such as receipts of the purchase of the property, land survey and title deeds. After reviewing the documents, it became crystal clear that the complainant's claims to the disputed portion of land were false.
To our client's chagrin on the 25th of June 2014, officers of the Lagos State Building Control Agency Lagos Island and divisional office in Igbosere served our client another contravention notice and marked some portions of her property. She was again, summoned to their office and threatened with demolition of her property.
Spaces for Change petitioned the Commissioner for Physical Planning on July 14, 2014 urging him to use his good offices to investigate and intervene in the matter. Our legal team accompanied Mrs. Farimade to Lagos State Building Control Agency (LASBCA) at Old GRA, Ikeja Lagos, the Technical Service Department and the office of the Commissioner and Permanent Secretary at the Ministry of Physical Planning to lodge further complaints.
While steps were being taken to administratively resolve this impasse, armed thugs accompanied by heavily-armed security operatives in OP-MESA vans invaded the property on July 24, 2014, at about 10 a.m. in the morning and demolished several portions of her property. LABSCA, TSD and the Ministry of Physical Planning have all stated emphatically that they did not authorise the demolitions.
Spaces for Change is employing every legitimate means, including legal action to defend the Mrs. Farimade's right to housing and property, a right protected under Nigeria's 1999 Constitution and the African Charter on Human and Peoples Rights.