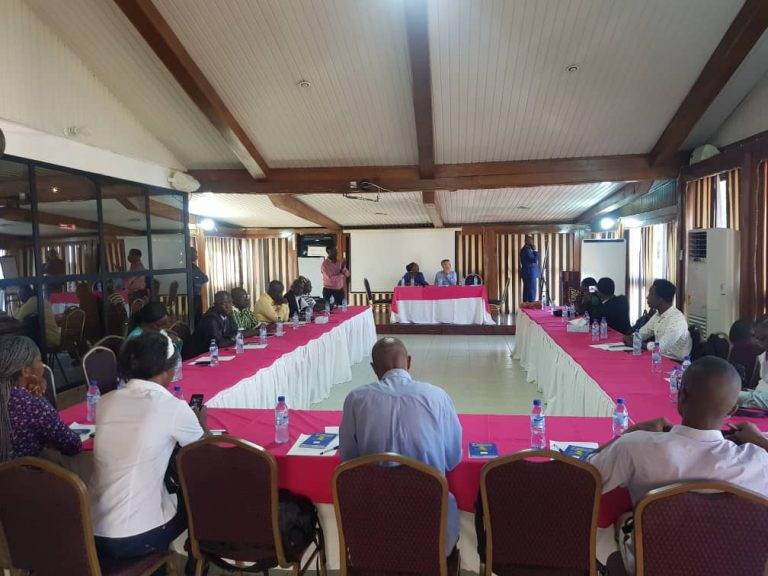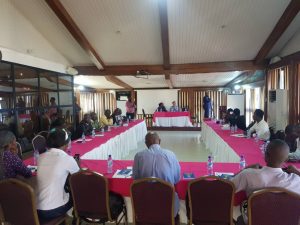 Consistent with the organization's mandate to extend technical cooperation, knowledge-building and solidarity to civil society actors within and beyond borders experiencing shrinking civic space, Spaces for Change's |S4C's Legal officer, Sola Mercy Olutayo, participated in a series of strategy development meetings in Sierra Leone between October 27 – November 1, 2019, organized by the Society for Democratic Initiatives and World Movement for Democracy. The Government of Sierra Leone introduced an NGO Policy in the country's Development Cooperation Framework (DCF) in December 2018, which aims to hinder the ability of civil society, including non-government organisations in Sierra Leone, to seek and receive funding to implement programs that serve their communities and enable their sustainability.
At the first of the week-long meetings, Ms. Olutayo joined 20 local civil society actors to review international and regional regulations protecting the right of the civil society to receive funding. They also analysed provisions of the DCF, flagging sections of the law in need of urgent reforms. Moving from extensive review and analysis of legal standards, they brainstormed and mapped out an advocacy strategy for initiating and coordinating advocacy in order to ensure the proposed legal reforms are adopted and implemented.
Sierra Leone's DCF adds to the growing list of restrictive legislations introduced by governments to stifle dissent, curb opposition to their policies and programs and shrink the civic space. Some provisions of the NGO policy includes:
Civil society's activities would be limited to those that align with the priorities of relevant government ministries and they will only be allowed to implement only two thematic programs.
Politicians would have the authority to approve civil society's activities in some particular regions.
Civil society organizations (CSOs) may be forced to join the Sierra Leone Association of Non-governmental Organizations (SLANGO), which some fear has been co-opted by the government to exert influence over civil society.
CSOs may be required to have a board of trustees, a bank account, and a physical office, which is difficult for modest organizations to comply with.
CSOs would be required to disclose donors and funding arrangements or other donor requirements to the Ministry of Finance and Economic Development (MOFED).
CSO may be required to route all assets intended for capacity building through the SLANGO and MOFED, which would allow the government to determine the nature, scope and location of civil society activities.
It is worthy to state that there was no consultation or meaningful engagement with civil society organisations (CSOs) during the formulation of the Development Cooperation Framework. At a meeting with CSOs on September 17, 2019 after the law has been passed, the government of Sierra Leone through its Ministry of Planning and Economic Development announced that the implementation of the DCF would begin in 2020. They, however, hinted that the government would solicit the input of civil society groups when considering reforms to the framework. It was on this premise that the strategy workshops and meetings were organised to establish a joint advocacy plan to push back on the restrictions to the civil society's right to receive funding.
Although, the right to receive funding is not specifically referenced in any international or domestic regulation, the right is however recognised by a number of United Nations and regional declarations, resolutions and guidelines as an essential element of association rights. The right to freedom of association is legally binding under the International Covenant on Civil and Political Rights (ICCPR) Article 22 and it is on this pillar that the right to receive funding is anchored.
Ms. Olutayo also attended a coordination meeting on improved engagement between civil society groups and governments organized by the African Union under the Citizens and Diaspora Directorate (CIDO) in collaboration with the Economic Social and Cultural Council (ECOSOCC), Sierra Leone Chapter. The meeting explored ways of building effective and collaborative working relationships between non-governmental organisations and government departments. They further discussed ways of bolstering constructive working relationships between the African Union and member states on one hand, and member states and civil society on the other hand.
Again, Ms. Olutayo attended the African Lawyers meeting held on 1st November, 2019 in Sierra Leone. The convener, Emmanuel Saffa Abdulai started the loose network in 2014 with a membership base of about ten lawyers from across six African countries. The meeting aimed to coordinate African lawyers engaged in the defence of the civic space and human rights at both national and international courts. At the meeting, lawyers from different countries across Africa shared their experiences, particularly the attitude of their home governments towards a free civic space.
The need for legal representation for human rights defenders was also emphasised. Ms. Olutayo shared the experiences from Nigeria, citing several cases of arrests and prosecutions of human rights defenders and journalists documented on the organization's digital database – www.closingspaces.org. Majority of the victims of state repression lacked access to good legal representation.
A stakeholder analysis conducted during the meeting saw the lawyers identifying allies, opponents and potential targets for advocacy. The group sought to understand how their passions and litigation prowess can be deployed to offer legal representation to victims and generate continent-wide support for the reform of the DCF. Advocacy messages were composed and timelines to achieve specific activities agreed upon were set. The meeting ended with roles assigned to different organisations and the adoption of a monitoring and evaluation strategy.