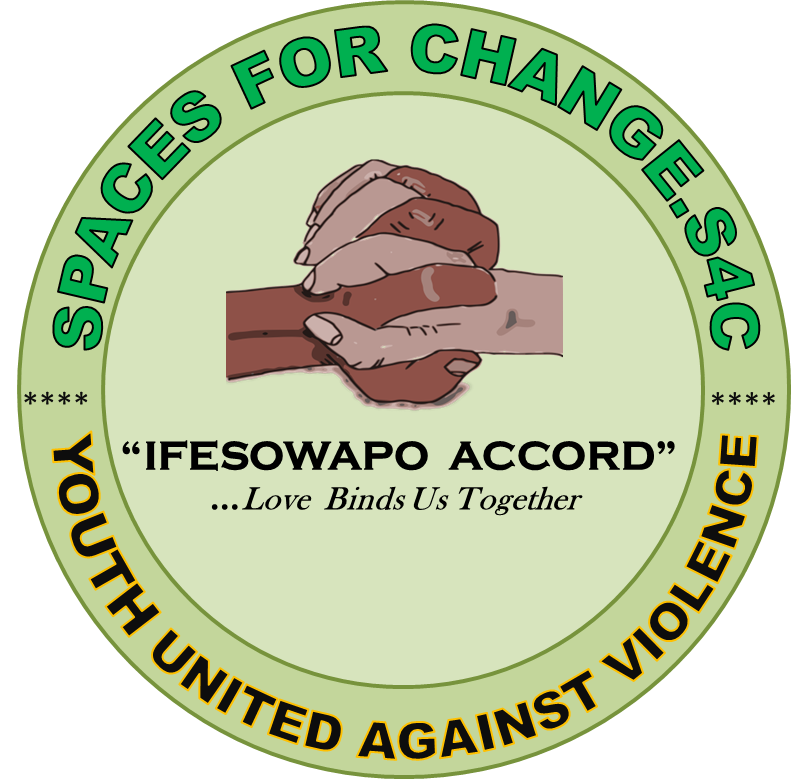 In commemoration of the International Youth Day 2015, Spaces for Change is proud to launch the Ifesowapo Youth Initiative. The Yoruba maxim – Ifesowapo – literally means "love binds us together." As the name suggests, Ifesowapo Youth Initiative seeks to galvanize and empower disadvantaged community youth to develop joint actions for combating the menace of street gangs and violent crimes devastating slum and informal communities in Lagos State.
Several communities in the Lagos Mainland area are affected by the new wave of "cult violence and gang battles." Bariga, Somolu, Mushin, Ebute-Meta, Fadeyi, Ijora-Badia have gained notoriety for this sort of disturbances.  When rival gangs clash, hoodlums seize the opportunity to raid these neighbourhoods predominantly inhabited by poor urban dwellers. Inhabitants live in continual fear of either being robbed, killed, kidnapped and stripped of their possessions. Many young people have been killed  during violent gang clashes and no one have been brought to justice.  The Lagos Mainland Local Government Authority and the Nigerian Police Force have not been successful in reining in these attacks. Youth violence in these areas is made worse by the continuing high levels of youth unemployment in Nigeria which was recently rejigged from 23.9% to 6.4% following a change in the methodology for computing unemployment statistics.
Through this initiative, Spaces for Change calls on the federal government of Nigeria, the Lagos State government and other constituent states governments in Nigeria, to tackle the drivers of youth violence such as poverty, unemployment, ignorance, illiteracy, marginalization, the search for fellowship, identity, protection and solidarity.   The Nigerian government should as a matter of urgency, address youth bulge in the country by increasing budgetary allocation to education and engaging the youth in very productive ventures.  Such measures are necessary to curb the escalating incidents of street violence, rival cult clashes and violent crimes by local youth in informal and slum neighbourhoods in Mainland area of Lagos State.
"Under the auspices of the Ifesowapo Youth Initiative, we are determined to get many youth off the streets, and complement the efforts of the federal government and the Lagos State government towards building more inclusive societies that respond to the social, economic and cultural needs and rights of young people in Nigeria," says Spaces for Change's executive director, Victoria Ohaeri