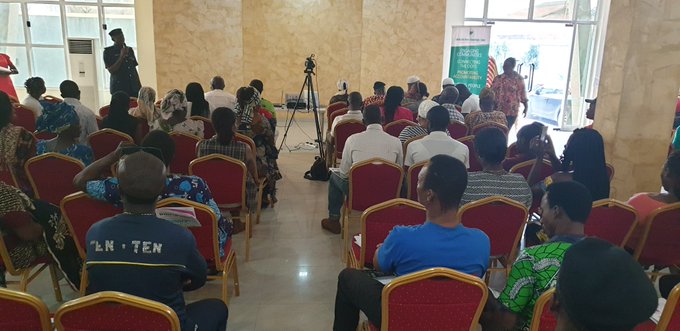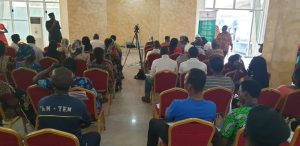 A community forum, tagged, Improving Local Government's Response to Emergencies in Low-Income Communities in Lagos State, organized by SPACES FOR CHANGE | S4C and Communities Alliance against Displacements | CAD, attracted almost a 100 attendees from multiple industry sectors: government, civil society, media, women associations and residents of several informal communities in Lagos. Held on June 27, 2019, in Ebutte-Metta, Lagos, the community forum featured presentations on a wide array of issues concerning urban sprawl and solution-focused dialogues between low-income community residents and state officials drawn from the Lagos State Neighbourhood Safety Corps, Lagos State Fire Service, Lagos State Employment Trust Fund, Lagos State Ministry of Environment and the Directorate of Citizens' Rights under the Lagos State Ministry of Justice.
A recent poll S4C conducted in CAD's 24 member-communities showed that fire incidents topped the list of emergencies experienced in Lagos informal communities. Some of the emergencies recorded in in Lagos' downtown communities in 2019 include a fire incident which affected 3 buildings, displacing at least forty-one persons at Toluwani community, Lagos Mainland; a building collapse in Ita-Faji, Lagos Island; two major demolition exercises and continuing threats of displacement in Badia community; 3 incidents of police brutality in Ajeromi; chieftaincy tussle and insecurity plague in Ito-agan community, among others. These incidents and community complaints reveal critical gaps in local governance that need to be bridged by shifting planning and decision-making to municipal authorities.
Being the third tier of government closest to people at the grassroots, the local government bears a constitutional responsibility to deliver services to the communities that they represent and serve. 'Communities are yearning for an improvement in the way local government authorities react and respond to emergencies that frequently befall the areas where they live',  Comrade Simeone Erakpotobor, a CAD executive stated in his opening remarks. Against this backdrop, the forum aimed to bolster the capacity of local government authorities to respond to the pressing needs of low-income communities across Lagos metropolis such as insecurity, fire, flooding, youth unemployment, forced displacement, collapsed buildings and recurrent human rights breaches linked to urban development. The array of presentations delivered at the forum offered deep insights into each of these specific community priorities, sharing vast ideas and approaches for improving local government's capacity to address the enormous service provision responsibilities increasingly devolving upon them.
The first presentation, 'Insecurity in Communities: Understanding the Role of Lagos State Neighbourhood Safety Corps (LNSC) and Other Stakeholders' by Mr. Bajulaiye Adegboyega, Executive Secretary, LSNC, discussed the functions and modus operandi of LNSC in securing Lagos communities. First off, the issue of security is everyone's business. LNSC as a community policing system, complements that collective society-policing role. Established in 2016, the agency works to enhance public safety through community participation, partnership, and collaborating with relevant security agencies in intelligence-gathering, collating and sharing information to prevent crime. By so doing, it assists and complements the Nigerian Police Force in securing the lives and properties of residents. LSNC is stationed in every local government, with over 5000 trained corps personnel from various ethnic groups situated in various local communities. Communities can get involved or support the LSNC by reporting cases of threats, harassment or violence timely.
A video played afterwards showed an emotional story of a young girl that died as a result of a fire breaking out in her home and slow action by the Lagos State Fire Services. The video laid the foundation for the second presentation,  'The Challenges of Combating Fire and Other Emergencies in Lagos', by Mr. Olatokun Odunayo of the Lagos State Fire Service, an agency established by law to combat fires emergencies. The duties of the Lagos State Fire Service include raising public awareness on fire prevention and control measures, and undertaking other forms of rescue missions such as from wells, rivers, oceans or building collapse. According to Odunayo, accidents, carelessness and arson are the major causes of fire. Over 70% of recorded fire incidents in Lagos resulted from carelessness. That is why safety, like security, is a collective concern, not just that of the Fire Service.
'Evacuate a building in the event of fire emergency. Trying to go back inside a burning building to salvage personal belongings is a risky thing to do' he warned. This the most important safety rule that children and adults must be aware of.  In the event of a fire outbreak, the first thing to do is to raise an alarm, alerting everyone to evacuate the building.  The fire should ONLY be attacked with a fire extinguisher. The Lagos State Fire Service Control Room should be contacted immediately on 08033235891 (or alternatively, using emergency toll free numbers: 767 or 112). When contacting the Fire Service, callers should communicate clearly, indicating the location, landmarks and precincts of the incident. The lack of clarity in communication hampers the rapid response operations of the agency.
Prevention is the most important part of safety. Preventive measures include installing gas cylinders outside of the main buildings, not smoking in bed, turning off all electrical appliances during power outage, and discouraging the use of boiling rings.
The next presentation, 'Accessing the LSEFT: Opportunities for Youth Living in Low-Income Communities'  by Mr. Oni Adewumi of the Lagos State Employment Trust Fund (LSETF), enlightened participants about the youth development and economic empowerment structures set up by the Lagos State Government to support the start-up and expansion of micro, small and medium scale enterprises (SMEs). Established in 2016 to bolster job creation and enterprise development in the state through skill acquisition and the provision of financial support to residents of Lagos State, the LSETF  has set aside about 25 Billion Naira to help target groups grow and scale their SMEs or acquire skills to get better jobs.
The LSEFT offers three programmes: Loan Programmes, Employability Programmes, and Lagos Innovate Programmes. The loan programmes vary in size, with a maximum of N2million, an interest rate of 5% per annum, and at most, 2 guarantors. To be eligible, one must: be at least 18-years-old, a registered resident of Lagos, a business owner for at least 1 year, have a clean credit record, a valid Bank Verification Number (BVN), and have a minimum turnover of N20,000 monthly. Applications are done electronically via apply.lsetf.ng.
The Employability Programme offers a variety of training classes for young registered residents between ages 18-35 (with at least a Junior Secondary School Certificate).   Registrants are typically trained to undertake the following jobs: Sales Executive, Care Giving, House Keeping, Front Desk Assistance, Sewing, and Construction. Applications can be completed online via www.lsesp.ng. The Lagos Innovate Programme on the other hand, is designed to assist founders and start-ups by facilitating access to high quality workspace, learning, events sponsorship, investment capital, and peer networks. It is open to all innovation-driven enterprises that are less than three years old and based in Lagos. Applications can be completed online via www.lagosinnovates.ng. 
The flurry of questions and robust discussions that ensued after the paper presentations delved deeply into how to solve the specific urban challenges informal communities are facing such as domestic fires, waste collection, flooding, environmental rehabilitation in blighted settlements and the absence of participatory mechanisms for engaging local authorities. State officials from the various ministries took turns to respond to their questions. The question-and-answer session paved the way for the exploration of solutions to urban challenges and channeling feedback to appropriate institutions on areas where critical interventions are needed. There was consensus on the need to strengthen the role of local authorities through decentralization measures and by developing the necessary framework for the creation of partnerships with civil society actors, communities and the private sector. For instance, the Lagos State Ministry of Environment enlightened participants on extant waste management, recycling, and reuse initiatives that communities can initiate in order to complement existing arrangements.
Participants left the forum better informed about the roles of various stakeholders in managing emergencies in their communities and better equipped to engage with their public officials. Community forums such as this reinforces SPACES FOR CHANGE'S commitment towards developing active and enlightened citizens capable of influencing decision-making and social change in their communities.