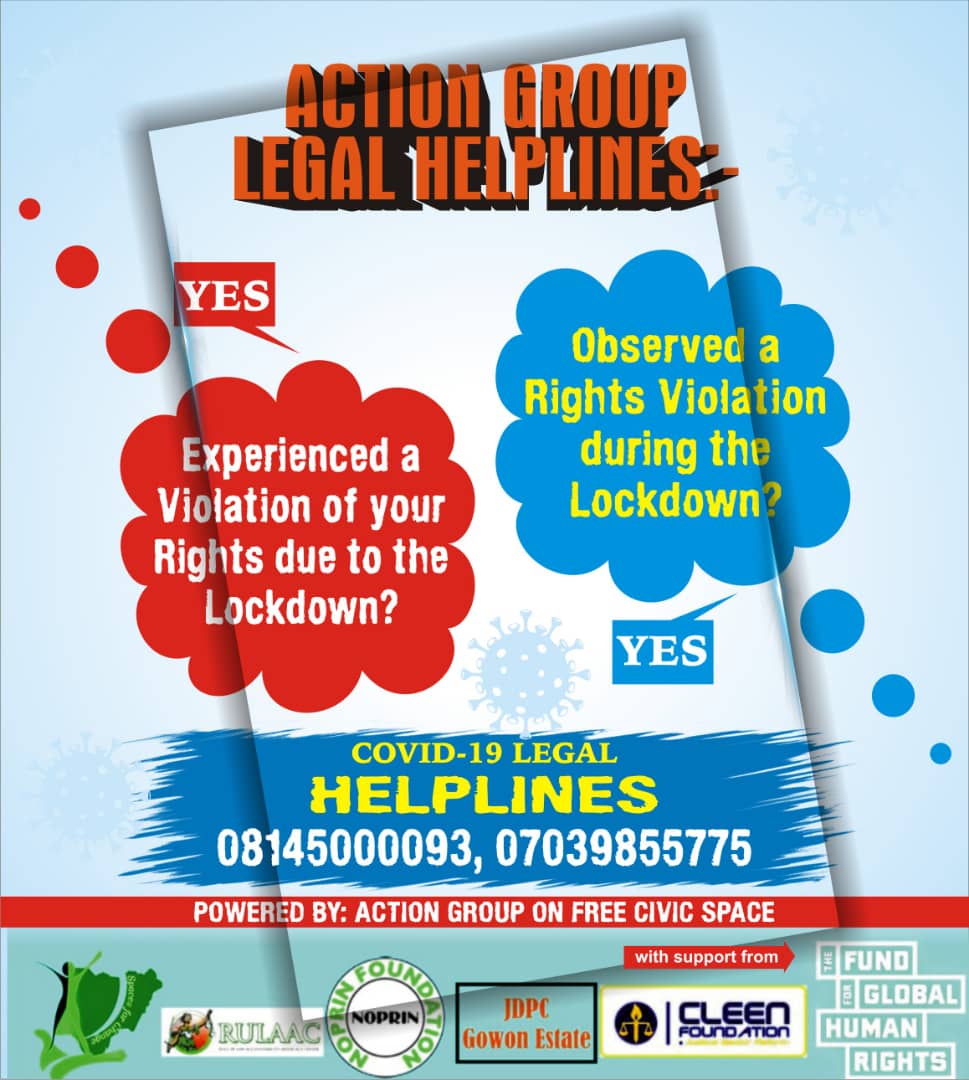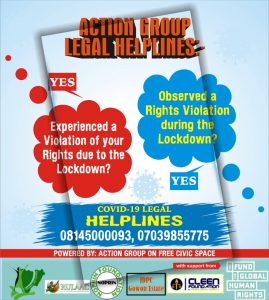 With the timely support of the Fund for Global Human Rights, SPACES FOR CHANGE | S4C teamed up with CLEEN Foundation, NOPRIN Foundation, Rule of Law and Accountability Advocacy Center (RULAAC), JDPC Gowon Estate and the Network of Pro Bono Lawyers of Nigeria, to launch the Action Group Legal Helplines (08145000093 & 07039855775). Since April 2020 when the Legal Helplines Service was launched, the team of lawyers been providing free legal services to persons whose rights are violated as a result of the COVID-19 lockdown measures in Nigeria.
In total, the team intervened in 106 (one hundred and six) cases involving arrests and detention, murder, physical assaults, domestic violence and extortion in Lagos, Bayelsa, Rivers, Imo, Delta, Kaduna and Benue States. While some of these cases have been concluded, some are still being judiciously handled by the team until a satisfactory conclusion is reached.
Many states of the Nigerian federation are beginning to ease down the lockdown restrictions imposed as part of efforts to contain the spread of coronavirus. Accordingly, mobile courts set up across states to try defaulters of lockdown regulations have stopped sitting as normal courts resumed hearings, although with certain restrictions. With this switch from adhoc legal arrangements to normal court sittings, the legal team are continuing to use existing legal mechanisms to resolve the complaints received during the lockdown.
In one case, the team has gone ahead to petition the Nigeria Army and the National Human Rights Commission on the death of one Diebo Jumbo and Tamunoinyekuro Jumbo who were gruesomely killed by men in military uniform in Arugbanama community, Bonny Island, Delta State on May 12, 2020. In another case, they petitioned the National Human Rights Commission on behalf of one Sadiq Ibrahim Abubakar who was shot by men of the Special Anti-Robbery Squad (SARS) attached to Guzape police station, Abuja on May 19, 2020. The officers allegedly claimed to be in pursuit of a notorious kidnapper and they thought Sadiq Ibrahim was the kidnapper, and shot him. Up till today, the police have refused to tender an apology neither have they paid compensation to Sadiq whose radius and ulna bone have been damaged.
Among other things, the Action Group legal team has called on the two agencies to:
Conduct a proper investigation into the murder of Diebo Jumbo and Tamunoinyekuro Jumbo; demanding that all those found wanting should be prosecuted in compliance with the law.
Assist the dependents of Diebo Jumbo and Tamunoinyekuro Jumbo to urgently seek appropriate redress and remedies as justice delayed is justice denied.
Many complaints of domestic violence were received during the lockdown. The team swung into action, providing free legal representations to the petitioners at various police stations across Lagos State, including the gender desks in Ketu and Amuwo Odofin Police Stations, Family Social Services office and the Ministry of Youth and Social Development. Between April – May 22, 2020, the Action Group's legal team also provided free legal representations to indigent violators of Covid-19 executive order that were tried before the Lagos State Mobile Courts. On each of those days, the court adjudicated on about five charge sheets indicting about 20 defendants, totalling about 100 persons tried per day.