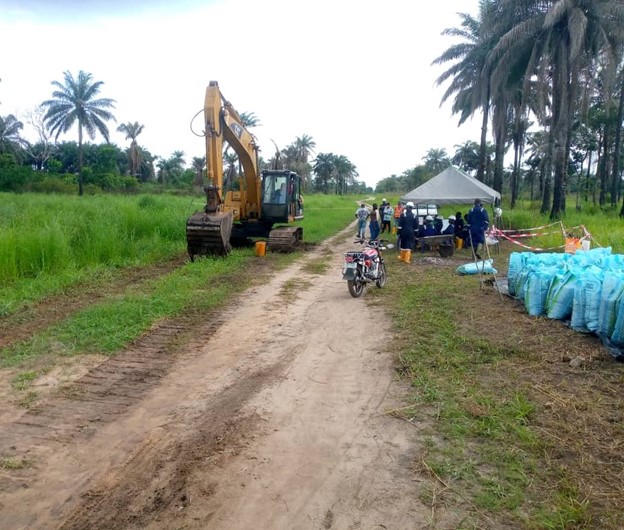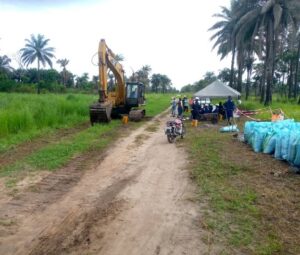 Obiakpu community in Ohaji/Egbema local government area of Imo State is heaving a sigh of relief as Shell Petroleum Development Company (SPDC) commences clean-up and remediation two years after community lands, forests, and rivers were devastated by massive oil spills and fires caused by leaks from crude oil pipelines owned by the Nigeria Petroleum Development Company and operated by SPDC. On July 19, 2020, the Obiakpu community reported an oil spill from the 16" Egbema-Assa pipeline operated by SPDC. The spillage caused irreparable damage to the community, resulting in the destruction of over 100 fishponds, several farmlands, and plantations, among others, estimated to be worth billions of naira. The spilled oil also flowed into the community river, a major source of water for the community. The spill was subsequently accompanied by a fire outbreak on May 28, 2021, which engulfed the Ishiobu River.
In response to the requests from Obiakpu community leaders for legal assistance and advocacy support for justice, Spaces for Change |S4C swung into action, demanding accountability for the colossal environmental harms. In a strongly worded statement published on various media platforms, including The Guardian, The Punch, The Daily Trust, The Niche, Per Second News, and many others, S4C called out SPDC, demanding an independent investigation, an immediate cleanup and remediation of the local environment and the provision of emergency relief measures to communities and individuals affected by both the spills and the accompanying inferno. A year later, S4C sent reminders to SPDC, demanding remediation and compensation to Obiakpu community. S4C further petitioned the Nigerian Oil Spill Detection and Response Agency (NOSDRA) urging it to wield its regulatory power to ensure SPDC's prompt clean-up and remediation of community lands and rivers, compensation of affected communities and households as well as the implementation of preventive measures to forestall a future occurrence.
After two years of sustained advocacy, SPDC rolled in their bulldozers, excavators, and cleanup equipment into Obiakpu community in April to begin the process of cleaning up the damage caused by the oil spills and fires in May 2021. On April 15, elated community leaders visited S4C's Owerri office to express their gratitude for the various levels of intervention to secure justice on their behalf and rectify the wrongs they have suffered.  While lauding this important first step towards environmental justice, S4C will not only heighten vigilance and monitoring during the cleanup but will also continue to push for compensation for affected communities. The acts and omissions of corporations that harm the local environment constitute a flagrant violation of the right of communities to a healthy environment and development, as protected in Chapter II of the Constitution of the Federal Republic of Nigeria, international instruments, and other local regulations.