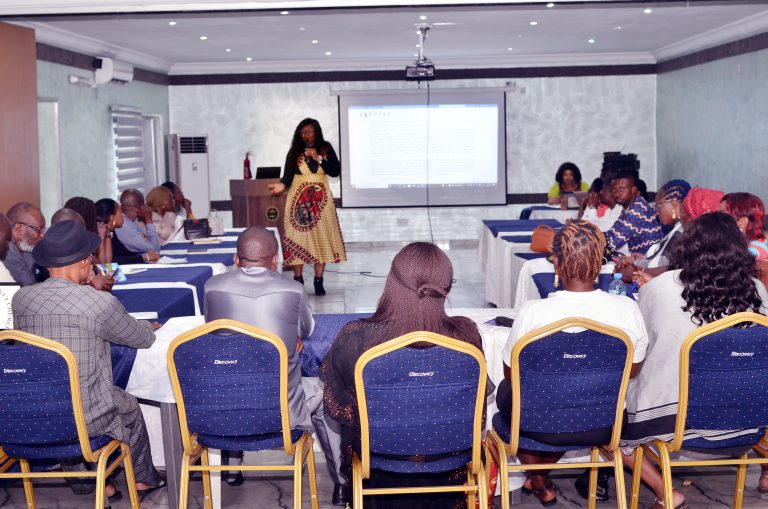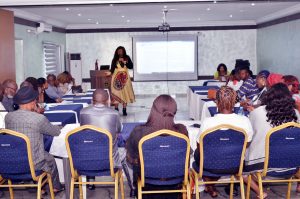 Spaces for Change | S4C facilitated a research validation workshop in Port Harcourt, Rivers State on August 18, in furtherance of a research support, through GreenSpaces Innovation, delivered to KebetkacheWomen Development & Resource Centre. The purpose of the research study is to identify opportunities for local communities, and women within them specifically, in Nigeria to claim and advocate for Free, Prior and Informed Consent (FPIC)/consent rights as both a right and a principle to inform decision making pertaining to the disposal and use of land and natural resources held by a community. The workshop brought together representatives of 25 oil and gas producing communities in six states of the Niger Delta, including Imo State. Other states represented are Akwa-Ibom, Bayelsa, Rivers, Edo and Delta.
The research presented to community stakeholders at the workshop adopted a three-pronged approach to identify the strategic entry points for claiming the consent rights of communities hosting major extractive projects in Nigeria. First, it looks back through recent research on corporate accountability and environmental justice to distill evidence that can be drawn from the juridical works of local and international authors.  Second, it scans state and federal legislations governing natural resource extraction, including customary norms and usages, flagging existing legal rights people can draw on to build consciousness and act. This is the most interesting aspect of the workshop. Here, S4C's Victoria Ohaeri walked participants through numerous state and federal legislations from which communities can draw inspiration to give or withhold consent rights in Nigeria. It afforded room for robust debates, discussions about the legal system and the law enforcement mechanisms at the federal and state levels.
The third approach juxtaposes the legal protections enshrined under customary and national law with the international best practice examples relating to free, prior and informed consent, illuminating the opportunities communities can use to give or withhold consent, claim reparation for environmental damage and bolster the push for corporate accountability and extractive justice. Because most of the case studies shared in the report were derived from other jurisdictions, participants seized the opportunity to share similar exapmes of success stories or failed attempts to hold companies accountable, recorded in their communities and respective states.
Although the recently-passed Petroleum Industry Law did  not expressly grant indigenous communities the right to give and withhold consent, participants reflected on numerous provisions of the new law that can be used to assert that right. With this newfound knowledge and empowerment, Kebetkache Women is working to ensure that communities  directly affected by extractive industry projects can identify new avenues for promoting and claiming their consent rights and, through this, realise their right to development sovereignty.