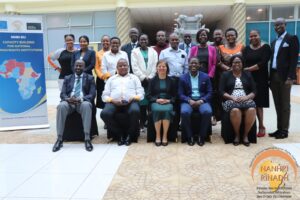 S4C participated in a capacity-building workshop co-hosted by the Kenya National Commission on Human Rights, Network of African National Human Rights Institution (NANHRI), and the European Union, on August 2-4, 2023. The workshop, themed, Expanding Civic Space in Africa: The Role of NHRIs in Complaints Handling of Violations and Abuses towards Human Rights Defenders, was held in Nairobi, Kenya, bringing together National Human Rights Institutions (NHRIs) and human rights defenders (HRDs) from Nigeria, Ghana, Zambia, Zimbabwe, South Africa, Tanzania, Kenya, Malawi, Ethiopia, Swaziland, and Uganda.
The workshop afforded NHRIs and HRDs a safe space to share their experiences regarding the nature and scale of abuses towards human rights defenders and the efficiency of national complaints-handling procedures for addressing them. The Marrakesh Declaration of 2018 was adopted as a guiding tool for balancing national complaints-handling procedures with global and regional best practices. This Declaration hinged on the principles of legal migration and mobility, protection and asylum, and return, readmission and reintegration, etc,. holds profound significance for the protection and promotion of human rights, particularly for NHRIs.
S4C participated in one of the panel discussions at the workshop where civil society organizations shared varied perspectives on complaint handling in their respective countries. S4C discussed its collaboration with Nigeria's National Human Rights Commission, showcasing the successful adjudication of cases involving human rights violations. S4C also shared other collaborative interventions between the Commission and the organization to protect the civic space in Nigeria. For instance, S4C represented and secured compensation for victims of police brutality at the Abuja #EndSARS panel (also known as  Independent Investigative Panel on Human Rights Violations by the Defunct Special Anti-Robbery Squad, SARS, and other Units of the Nigeria Police Force) constituted by the National Human Rights Commission. Through a combination of strategies such as issuing early warning signals, compliance clinics, capacity-building initiatives, publications, and workshops, S4C has actively engaged with the Commission, to increase awareness of civic and internet freedoms and ways of protecting them.
On the first day, the workshop delved into the historical context of the Marrakesh Declaration of 2018. Lead speakers and panelists unpacked the mandates of NHRIs, scrutinizing their involvement in civic space issues, and contemplating the trajectory of the civic space in Africa. There was consensus that HRDs, especially women, are most susceptible to human rights violations and transgressions. In light of this stark reality, NHRIs were encouraged to develop tailored and inclusive complaint-handling mechanisms for safeguarding women and other vulnerable groups.
The workshop's second day explored a variety of complaint-handling mechanisms within the HRD landscape, illuminating the gaps and challenges inherent in these protection systems across the continent. Across all NHRIs, their complaint submission procedures and mechanisms usually include formal petitions, letters, emails, calls, text messages, and even social media reports. A shift was observed during the COVID-19 pandemic as digital reporting channels gained prominence. While these complaint procedures have been largely accessible to the majority of the population, the efficacy of the procedures is marred by inadequate funding, hindering comprehensive complaint resolution. Acknowledging these funding limitations, some NHRIs practiced referral mechanisms, forwarding cases to civil society organizations for continuation. Beyond inadequate funding, other challenges hindering the effectiveness of national protection systems include the lack of an enabling framework assuring legal protection for HRDs, a dearth of gender-sensitive reporting channels, policy implementation gaps, lack of protected spaces for HRDs, paucity of stakeholder support, and capacity constraints.
The identified challenges sparked conversations around identifying new procedures and best practices for reinforcing the protection, partnership, and promotion of HRDs' rights particularly by strengthening complaint investigations, evidence collection, and access to legal remedies at the national, regional and international levels. Suggested solutions for bridging these gaps include crafting robust legal frameworks to fortify HRD rights, establishing alternative dispute resolution mechanisms, prioritizing capacity-building, and emphasizing the values of trust and confidentiality. Achieving these objectives also necessitates a better understanding of both the differentials and commonalities between NHRIs with quasi-judicial powers and hybrid NHRIs like Ghana's. South Africa and Nigeria's NHRIs also enjoy autonomy and get direct funding from the treasury. They can also administer justice without governmental interference, which is not the case with other NHRIs. The workshop wrapped up with a collective resolve by participants to put all hands on deck to strengthen protection systems for human rights defenders in Africa.