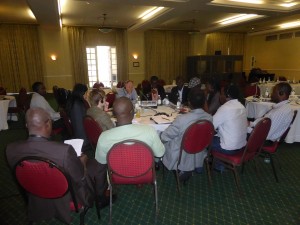 Spaces for Change's Research and Policy Communication Officer, Ms. Ndutimobong Enang joined other advocates of natural resource management, land rights, environmental justice, gender inclusion and governance at a workshop organized by the African Development Bank (AfDB) and the African Natural Resources Center between 10th to 12th November 2015 in Johannesburg, South Africa. The African Development Bank (AfDB) set up the African Natural Resources Centre (ANRC) as a non-lending arm of the institution to build the capacity of African governments and peoples in natural resource management. Along this line, the Centre identifies civil society organizations (CSOs) as an important stakeholder in the process of building bridges of trust and inclusion between the government, the private sector and the real owners of the natural resources – the people. The workshop therefore formed part of a broader effort to draw up a schedule of CSO capacity building program for 2016 – 2018 and identify areas of support from the ANRC.
ANRC Executive Directors Ms. Sheila Khama and Mr. Muzong Kodi emphasized that building CSO capacity is the Centre's way of ensuring citizens' participation in natural resource management in their various countries. For two whole days, participants drawn from 54 African countries listened to powerful presentations by Graca Machel Mandela of Garca Machel Trust, Mr. Robert Moyo of the Mandela Trust, H.E. Gana Fofang, UN, Resident Coordinator and Resident Representative of UNDP and Prof. Dr. Peter Eigen, founder of Transparency International.
"For the Sustainable Development Goals (SDGs) to be achieved, CSOs must identify their areas of intervention and build bridges of communication in order to help citizens determine their own destinies," says H.E. Gana Fofang. Aligning with this view, Prof. Dr. Peter Eigen implored CSOs to work for the adoption of Extractive Industries Transparency Initiative (EITI) principles of transparency and accountability in the management of renewable and non-renewable natural resources in their respective countries and to make such information available to citizens. Ms. Garca considered it a great opportunity given to CSOs to be decision makers along with the AfDB. "Women and youth also need to be given a voice in shaping policy," she said.
The presentations were followed by plenary sessions and group discussions around the themes of transparency in natural resource governance, gender inclusion, reform of land policies that reconcile subsistence and commercial land utilization and protection of the physical and social environment.
On the second day of the workshop, Ms. Ndutimobong Enang chaired a breakout session that examined access to land in Africa, and the challenges limiting community participation in resource governance in Africa. She shared experiences of Spaces for Change's advocacy to foster community inclusion in natural resource governance in Nigeria. In 2013, Spaces for Change conducted the most-comprehensive analysis of the Petroleum Industry Bill provisions relating to community participation and the environment. The final report of the rigorous policy analysis – PIB HANDBOOK – was released at a well-attended 2-day conference held in Port Harcourt, Rivers State. The Handbook was also presented to the Nigerian parliament, including the various adhoc and joint legislative committees of the Nigerian Senate and House of Representatives.
Armed with the PIB Resource Handbook, Spaces for Change vigorously sensitized and mobilized oil producing communities in 5 Niger Delta States of Edo, Delta, Rivers, Akwa Ibom and Cross Rivers to participate in the formulation of critical provisions of the Petroleum Industry Bill, especially those relating to environment and community participation. We targeted community representatives comprising traditional rulers, youth and women leaders, and built their capacity to understand key provisions of the Bill that they could rely upon to effectively report and obtain compensation for oil pollution and the resulting environmental damage.
Group activities and discussions on the second day of the workshop concluded that transparency must begin at the contract stage to ensure they are awarded to identifiable/listed corporations whose operations benefit the whole country as opposed to vested interests only. Inclusive long term planning along with fiscal responsibility ensure appropriate investments generate wealth for the development of human capital, education, health and infrastructure. Strong regulatory institutions contribute to preventing state capture by interest groups by making it possible for public and oversight authorities to demand accountability. Opaque governance of natural resources is one of the major causes of intractable conflicts and deepening poverty in the region.
Inclusion in the discourse of citizens' rights in natural resources management is not complete without the perspective on how it affects women. Women who are known to have disparately lower access to full and productive employment and decent work in non-agricultural fields of natural resource, thus compounding gender poverty. Mrs. Beatrice Kapindula Simpasa, Development and Gender Consultant chaired the session on Natural Resources Rights from a Gender Perspective. The major takeaway from her presentation is that economic empowerment of women is related to their ability to access and control natural resources. Ownership rights enable women to earn income as well as get access to business financing products and services.