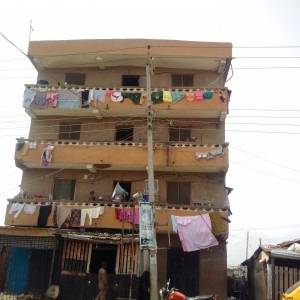 Young people living in the slums and informal settlements have one major pain: they are stereotyped and negatively labelled as criminals. These stereotypes and negative labels often provide justifications for security agents to frequently raid their homes and communities, arresting and detaining them in the disguise of fighting crime. Working in collaboration with SPACES FOR CHANGE, the young people living in informal settlements say they are now fed up! They are tired of being depicted as thugs, hooligans, hoodlums and criminals. And they want to do something about it.
Ruthless police invasions are often executed without warrants, without sufficient notice and consultation with house-owners, frequently leading to needless arrests and detentions. In more than 5 raids that have occurred in Badia-East in 2018 alone, not a single weapon or firearm has been discovered. The Police often demand bribes as a condition for releasing those arrested and kept in custody. Many sell off their prized possessions in order to raise the funds needed to pay bribes to the police. Those who cannot are thrown into jail.  Without fair hearing and trial, the arrested and the detained languish in jail. With many of them living below the poverty line, they lack access to adequate legal representation and therefore, shut out of the formal justice systems. All that is about to change. SPACES FOR CHANGE has now stepped in, and determined to challenge these raids.
On Thursday, February 15, 2018, Ebina Collins, Emeka Ojie, Osaro Amadi and five (5) other slumdwellers were arrested, detained and tortured by officials of the Special Anti Robbery Squad (SARS) in Ijora Badia East, Lagos, for allegedly belonging to a gang and being in possession of arms. According to Ebina Collins, they were at a public viewing centre watching a football match. At exactly 8:45pm, SARS officials stormed the venue, seized their phones, forcefully collected their monies, and beat them severely for doing nothing wrong.
Sequel to the police invasion, eight young men were arrested and detained for four (4) days at the Federal SARS Station in Ikeja, Lagos. While in detention, they were deprived of food, and given very restricted access to water. "For four days, we no chop anything. Look at my leg, na wood them use flog us for there", one of the detained lamented.  They sustained injuries on different parts of their bodies as a result of the beatings they received while in detention.
Community leaders reported the incident to SPACES FOR CHANGE on February 19, 2018. The organization learned that SARS operatives stormed the viewing centre demanding that the owner pay them for running a business in the community. When he refused, they threatened to deal with him. They then engaged him in fistcuffs, carted away with his television, phones and some cash. The owner of the viewing center was forced to write a statement without speaking to a lawyer. The arrested persons were requested to pay the sum of N120,000 (One Hundred and Twenty Thousand Naira) as bail condition.
SPACES FOR CHANGE's legal team swiftly intervened, demanding the release of all 8 persons without conditions. SPACES FOR CHANGE reported the incident to the Deputy Public Relations Officer (PRO) of the Lagos State Police Command who eventually ordered their release. Even after the Deputy PRO of the Lagos State Police Command ordered their release, the SARS officials still demanded for a N20,000 (Twenty Thousand Naira) bail fee, but the organization insisted on a free bail. SPACES FOR CHANGE eventually secured the release of all eight persons on February 20, 2018.
'Thank you S4C! I don't know how long we would have stayed here if you hadn't intervened', the elated owner of the viewing center told SPACES FOR CHANGE. Community leaders are now working with the organization to launch a sustained campaign against the widespread criminalization of slum youth.