"We must transit with a human face. We cannot transit in crisis. Communities must be involved in the development of all frameworks in the future green economy." These were the words of Dr. Peter Medee, former commissioner of Rivers State Ministry of Energy and Natural Resources and reviewer at Spaces for Change's | S4C's launch of the report, Energy Transition in Nigeria's Oil-Rich Communities in December 2022. The report —  launched by Spaces for Change in collaboration with Youth and Environmental Advocacy Centre (YEAC) and Extractives 360 (e360) —  examined the extent the interests and priorities of communities rich in fossil fuels are captured in Nigeria's energy transition plans. The report found that national energy transition plans are silent on communities that have borne the brunt of fossil fuel extraction for several decades and whose livelihoods are dependent on crude oil and local refining. What then are the opportunities and mechanisms for including local communities (where oil and gas have been exploited for decades) in this new conversation so that they can also benefit from the new green economy?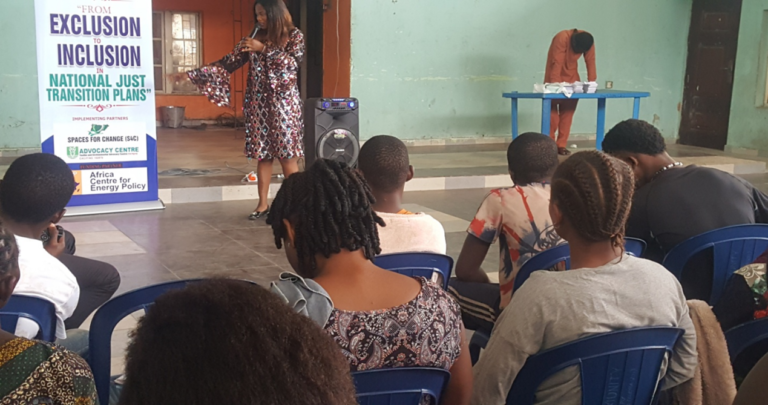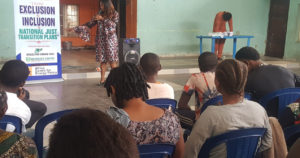 Moving from research inquiry to grassroots action,  S4C embarked on a region-wide sensitization campaign in the Niger Delta region of Nigeria, sensitizing oil-rich communities on how they can participate and benefit from the green economy. The outreach programs carried out under its Exclusion to Inclusion project have been held in Rivers, Bayelsa, Akwa-Ibom, Imo, and Delta States, with hundreds of local chiefs, women and youth leaders, local council authorities, traditional prime ministers, community association and other interest groups in attendance.  Across the communities, locals heard about Nigeria's energy transition plan for the first time ever and what it will mean for communities rich in oil and gas. We also tried to gauge the preparedness of these communities to move on from fossil fuels and the findings are profound. Communities want alternative livelihoods. They want environmental justice for the decades of destruction of the local environment by oil and gas companies. They decried the environmental degradation combined with the social and economic losses associated with oil exploration in the area. The Nigerian government must take concerted efforts to remedy these losses before the government can move on to cleaner sources of energy. These interactions with community stakeholders across 5 oil-producing states in Nigeria validate S4C's findings documented in the report.
The Exclusion to Inclusion project also targeted secondary school students using a handbook that simplified energy transition and all the associated terms and concepts. Overall, the project aimed to increase localized expertise in the resource extraction zones so that communities will no longer have to rely on middlemen while interacting with governments, regulators, and investors. The Exclusion to Inclusion project is supported by Ford Foundation's Extractive Industry and Climate Change Governance (EICCG) Fund managed by Africa Centre for Public Policy (ACEP).