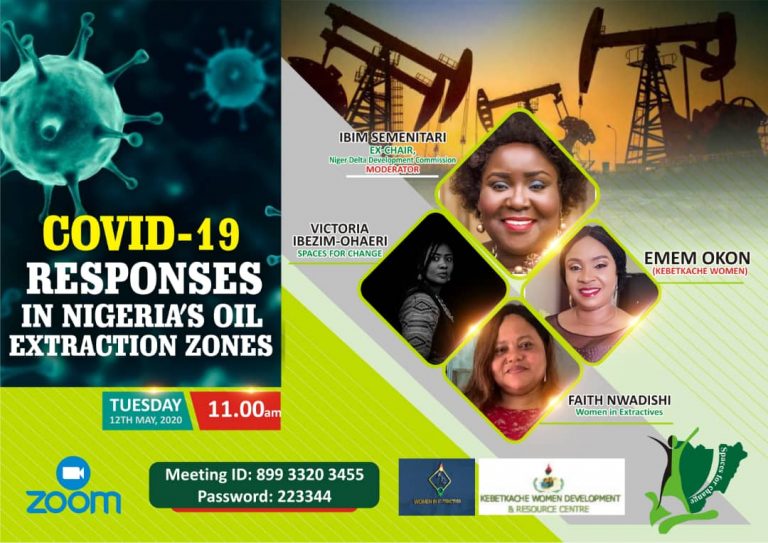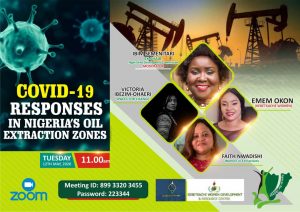 SPACES FOR CHANGE | S4C in partnership with KEBETKACHE WOMEN DEVELOPMENT & RESOURCE CENTRE and WOMEN IN EXTRACTIVES co-hosted a webinar, COVID-19, Oil and Host Communities, on May 12, 2020. With 62 participants tuned in, the webinar brought together a diverse audience and speakers from the public, private and non-profit sectors to discuss how the COVID-19 containment measures are impacting on local populations, especially the vulnerable groups like women and children living in Nigeria's oil-producing communities in the Niger Delta region.
Following the outbreak of the coronavirus pandemic, countries around the world have suffered major upheavals in their social, economic, political, cultural and health systems. With over four million confirmed cases and above 200,000 deaths across the globe, Nigeria joined other nations to roll out measures aimed at controlling the spread of the virus and mitigating the devastating impact on affected populations. On May 4, 2020, S4C and Kebetkche Women launched a report, COVID-19 Responses in the Oil Extraction Zones, which examined COVID-19 responses in Nigeria's oil extraction zones. The research covered nine oil-rich states that make up the Niger Delta region, namely: Rivers, Akwa Ibom, Bayelsa, Delta, Edo, Cross Rivers, Imo, Abia and Ondo States. The webinar was specifically hosted to publicly present and discuss the research findings with a broad spectrum of stakeholders.
Mrs. Ibim Semenitari, former Acting Managing Director, Niger Delta Development Commission, moderated the panel discussion featuring three panelists: Ms. Victoria Ibezim-Ohaeri, Director of Spaces for Change; Ms. Emem Okon, Director of Kebetkache Women and Ms. Faith Nwadishi, Director of Women in Extractives. This report summarizes the webinar proceedings, particularly the speakers' presentations and participants' contributions.