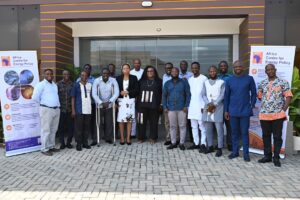 The two-day Annual Partners Meeting hosted by the Africa Centre for Energy Policy (ACEP) brought together eight grantees of the Extractive Industry and Climate Change Governance (EICCG) Fund in Accra, Ghana, between November 29 and 30, 2022.  Spaces for Change | S4C and 7 other organizations in West Africa came together to learn, reflect and consolidate the progress made so far on the EICCG-supported initiatives around natural resource management in the sub-region. The EICCG Fund supports innovative policy interventions through high-quality research, analysis, and advocacy for reforms in critical resource governance areas such as benefit-sharing policies, climate action, and energy transition, the prevalence of resource-back debts, active citizenship in resource governance, sustainable resource extraction and strengthening the civic space. 
S4C's Chetachi Udeh and Bonaventure Akuma shared experiences regarding the organization's project, 'From Exclusion to Inclusion in National Just Transition Plans'. The project, implemented in 5 resource-rich states (Delta, Imo, Bayelsa, Alwa-Ibom, Rivers)  in the Niger Delta region of Nigeria, gauges the inclusiveness of Nigeria's net-zero commitments. S4C's latest research study, Energy Transition in Nigeria's Oil-Rich Communities, laid the foundation for the advocacy conducted under the  EICCG-supported project. This research not only interrogates the inclusiveness of oil-rich communities in national transition plans, but also examined the transition plans unveiled by oil and gas corporations operating in Nigeria. The research found that national energy transition plans are silent on communities that have borne the brunt of fossil fuel extraction for several decades and whose livelihoods are dependent on crude oil and local refining.  National transition plans and policies neither made arrangements for cleanup, remediation, compensation, and rehabilitation nor for addressing the massive environmental damage that has accompanied the country's protracted dependence on crude oil.
Radio programs featuring extractive industry players, government regulators, and environmental activists enlightened oil- and gas-rich communities about Nigeria's energy transition plans, clarifying climate jargon such as greenhouse gas emissions, global warming, climate change etc.   Each radio program documented a higher level of engagement than the last as communities were now able to properly interrogate the energy transition agenda, articulate their expectations, and demand inclusion and reparation.
Other organizations equally shared their work around the extractives which include networking mining communities, corporate players and government regulators;  increasing participation of artisanal women miners in natural resource governance negotiations; inclusion of persons with disabilities (PWDs) in resource governance and accountability mechanisms in the community; using strategic litigation to challenge corruption in natural resource management; and, interrogating climate change financing across the region.
For the progress on extractive justice to be sustained, the civic space in the extractive regions must be sufficiently open to allow for effective monitoring of policy implementation by citizens and activists. The Closing Spaces Database, for example, documents several incidents of governmental restrictions in the extractive regions like the banning of protests and youth associations in some oil-rich states. Without civic freedom and unhindered opportunities to influence decisions and hold government accountable, governance would be left to the whims and caprices of unrestrained dictators. The meeting closed with a charge to partners to deepen regional collaborations and foster new partnerships that address challenges associated with natural resource governance in the region.