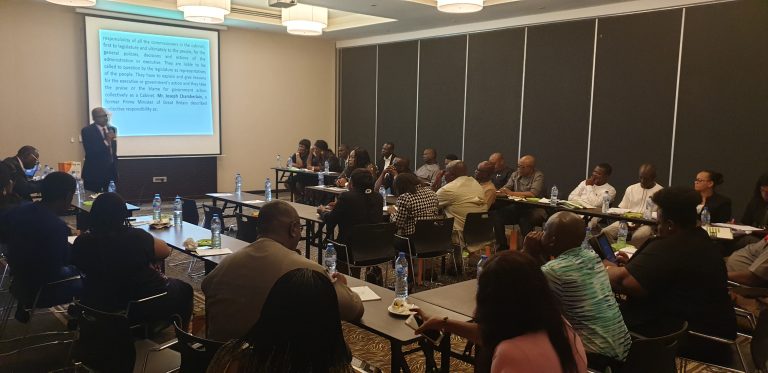 SPACES FOR CHANGE's [S4C's] latest research report, Moving from Multibillion Naira Budgets to Improved Housing Delivery in Imo State, was presented to Imo State Government officials at a capacity building workshop held on Thursday, September 19, 2019 in Owerri, Imo State. Forty-five (45) participants–comprising senior state government officials such as the Senior Special Assistants to Imo State Governor on information and legislative duties, General Manager of Imo State Housing Corporation, General Manager of Owerri Capital Development Authority, Imo Solicitor General, permanent secretaries, and directors of 6 line state ministries involved in housing and urban development in Imo State–attended the workshop. Both the research and workshop were supported by the Ford Foundation.
The research extensively tracked and analyzed budgetary allocations for housing development in Imo State between Y2010 to Y2017 spanning two different administrations then led by Ikedi Ohakim and Rochas Okorocha. Presenting the research findings, Victoria Ohaeri, Executive Director of Spaces for Change restated the study's primary objective which is to provide Imo State government with an independent performance analysis of the housing sector which can form the baseline for initiating critical reforms in the state. The report finds that legal and institutional reforms are needed to enable the state meet its positive obligation to provide housing to its teeming population, particularly the low-income and vulnerable citizens who are least able to access decent shelter.
Research evidence showed that Imo State Government has allocated more than ₦42.320 billion to the Ministry of Housing and Urban Development between 2010 and 2017. Year 2010 is highest under the Ikedi Ohakim-led administration while the lowest is in Y2014 and Y2015 at ₦2.990billion and ₦3billion Naira respectively under Okorocha-led administration. Overall, the budgetary allocations for housing development dwindles year on year, especially when the figures are adjusted for inflation.  Out of this total budget, public buildings receive the largest share of government spending and this was on buildings for government officials which did not contribute to the housing stock for the citizens.
Another major finding is that white elephant projects often displace housing priorities. A case in view is in 2016 where projects like hotels, roundabouts, inter-denominational chapels, 'monumental projects', took a significant chunk of the state's capital expenditure grants under housing budget even though most of them were never put to use. Approximately ₦4 billion was spent on these monumental house projects that do not have any significant value in reducing the housing deficits in Imo state. Repetition of line items in state housing budgets, opacity of housing construction deals were flagged as one of issues that is inimical to the sustainable housing delivery in Imo state. It is regrettable that the size of the annual budgets for housing development bears no correlation with increase in housing stocks.
To close the widening housing deficit in Imo State, certain correctional steps must be taken. First, policy and legislative measures are needed to guide and translate the state's promises and commitments to housing delivery into concrete benefits for citizens in the form of affordable and decent shelter. Budgeting could be improved significantly through the adoption and institutionalization of the simplification, traceability and planning efficiency system of budgeting for capital projects like housing. Engaging different stakeholders in housing development is critical. Reviving Imo Housing Corporation and strengthening the Bureau of Public Procurement and Price Intelligence to provide oversight for property development contracts with third parties are important recommendations to take into consideration in the state's housing sector reforms.