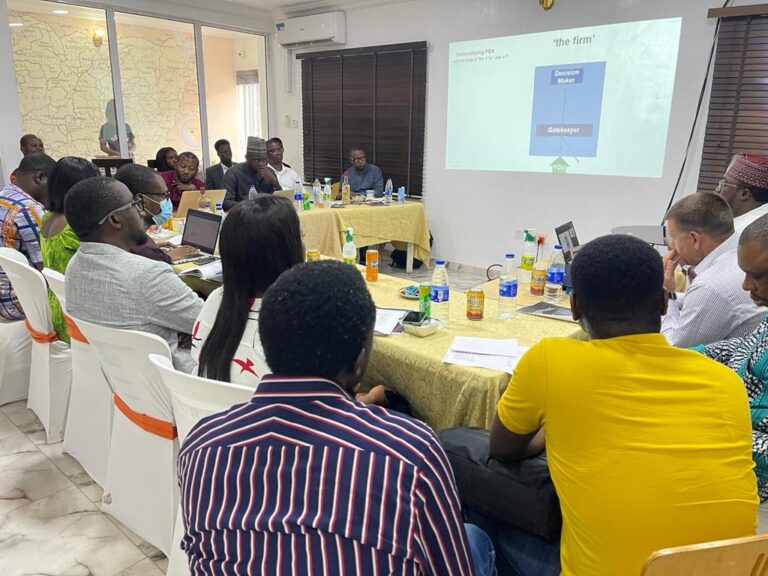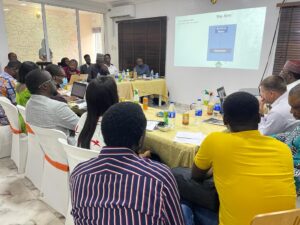 SPACES FOR CHANGE, USAID-SCALE and the National Democratic Institute co-hosted the Safeguarding Online Civic Space (SOCS) Working Group meeting on April 21-22 in Lagos which brought together 25 civil society organizations, tech groups and representatives of private telecom operators (Association of Licensed Telecoms Operators of Nigeria (ALTON) and Association of Telecommunications Companies of Nigeria (ATCON)) to co-create strategies for protecting the online civic space before and during the 2023 elections.  In his opening address, USAID's Sterling Roop reinforced the United States government's commitment to strengthening the democratic process by enhancing the integrity of the electoral process in Nigeria. Consistent with this commitment, one of the objectives of USAID's Strengthening Civic Advocacy and Local Engagement (SCALE) project–managed by Palladium–is to support innovative approaches for expanding the civic space as we approach the 2023 elections.
With a focus on ensuring election integrity and transparency, the discussions primarily focused on four major points: addressing internet shutdowns and freedom; combating misinformation and disinformation; improving voter information access for vulnerable groups; and tackling digital surveillance. These four critical issued were jointly identified by participants as potential barriers to civic engagements during the election season, thereby undermining the citizen's right to expression, association and political participation. Cutting off internet access in Zamfara, Katsina, Kaduna, and the most recent ban of Twitter for 222 days in Nigeria, point to a rising pattern of internet shutdowns and network blackouts in Nigeria. In addition,  misinformation and disinformation (popularly called fake news) are popularly used during election seasons to pique public emotions and swerve the decisions of voters. During this time, old information can be dug up or data can be easily doctored to raise false hopes or undermine the capabilities of electoral opponents. If unchecked, these patterns of internet shutdowns and fake news will continue, and may even escalate during the elections as has happened in other African countries.
Specific action-points were discussed and agreed to counter these trends ranging from advocacy and strategic engagements, evidence generation, capacity building and technological innovation.  Special consideration was given to deepening the inclusion of women and marginalized groups in the electoral process. Together, participants developed a work plan to guide the group' activities in the next 12 months, identifying the most important and most achievable goals within the one-year timeline and in tune with the 2023 election. Specific activities were assigned to members of the group according to their institutional mandates and strengths. Spaces for Change will be coordinating this effort to keep the online engagements open, ensure dissemination of accurate information around elections and guarantee the inclusion of minority groups in voter education and the election process.