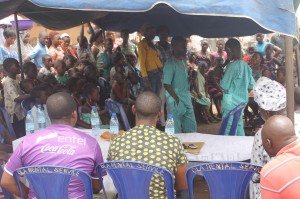 With support from Spaces for Change, the youth living in the Lagos slums of Ijora Badia-East and Ebutte-Metta are using arts, music, dance, drama, skill acquisition training and public concerts to challenge popular narratives that label them as "criminals, hoodlums, miscreants."  At a public concert held in Badia East on March 30, 2016, hundreds of local youth, including children, staged a concert in their community to add their voices to their community's struggles against arbitrary evictions and forced displacement. Badia East community was affected by mass evictions and demolitions in September, 17-22, 2015 which left thousands of families homeless. Till this day, large number of Badia youth, especially young mothers are sleeping in the open, while some have lost their babies due to the constant exposure to diseases, excessive heat, mosquitoes and unsanitary health conditions. The evictions and demolitions have also kept the local youth away from school and their sources of livelihood, leaving them in worse conditions than they were before the evictions.
The youth living in slums are often labelled as "hoodlums, miscreants and criminals." This negative labelling provides justification for state authorities to ruthlessly invade their communities in the name of fight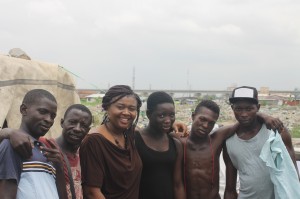 ing crime. The ruthless invasions and the ensuing demolition exercises are often carried out without adequate notices, without consultations and compensation for affected persons. Badia youth have faced repeated evictions since 2002. They knew that if they didn't do anything about the negative tags attached to them and their hovels, the threats of forced evictions and forced displacements will likely never end.
Showcasing their wares such as craft and bead works, fashion designs, DJ bands, singing and dancing exercises, talent shows,  the youth in Badia East came out en masse on March 30 to affirm that they shun violence and crime. Through these displays, they demonstrated their commitment to rebuild their lives, and draw public attention to their brave struggle for survival despite the daunting challenges they face everyday.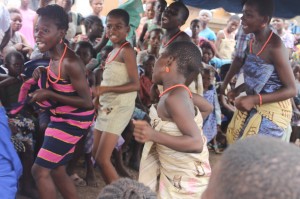 Badia children and teens acted a drama demonstrating what happens when government bulldozers demolishes the homes and businesses of the poor. A large crowd that gathered to watch the drama fought back tears as the children dramatized the reality of homelessness that they live with every day.
14 year old Miss Seun  showcased a beautiful collection of completed bead designs. Many onlookers, loving the intricate designs on display, went window-shopping and did some haggling.  Other vocations showcased at the program include graphic designs by Mr. Seinde who designed the program banner. Ms. Bilikisu, a hair dresser spoke briefly about hair-styling and apprenticeship. Also present were a disc jockey and a cobbler who displayed 3 leather foot wears.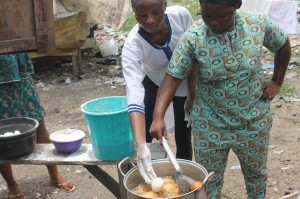 Vivian, 27, volunteered to fry egg-rolls on-site for the entire participants at a subsidized cost. 10 other young girls and teen-mothers signed on to learn how to fry buns and egg-rolls. So, they all learned to fry and bake during the concert.
Many displayed messages that depict the work that they do. For instance: "My name is Ophelia. I am 35 years old. I am a fashion designer. I made this dress I am wearing today. I live in Badia. I am not a miscreant." Another inscription read: "My name is DJ Osh. I dance, rap and entertain. I am 36 years old. I live in Badia East. I am not a criminal."
Spaces for Change's aim of organizing the program in collaboration with community organizations is to draw attention to the diversity of young talents in the community, embolden the youth living in slums to articulate their issues, solicit public support for community development, and create avenue for skills transfer to make the local youth employable. Funding challenges persist in making these objectives realizable.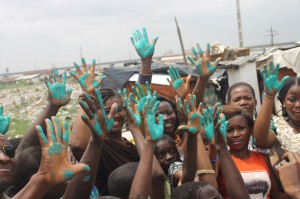 The concert ended with a "solidarity fun hour" where the participants had fun dipping their right hands in green paint, and plastered their fingerprints all over the event's banner which had a bold inscription: SLUM YOUTH AGAINST FORCED EVICTION.  This fun hour left many clothes stained, hands soiled, and many green handprints pasted all over wooden surfaces in and around the venue of the concert. It was, indeed, a fun hour.