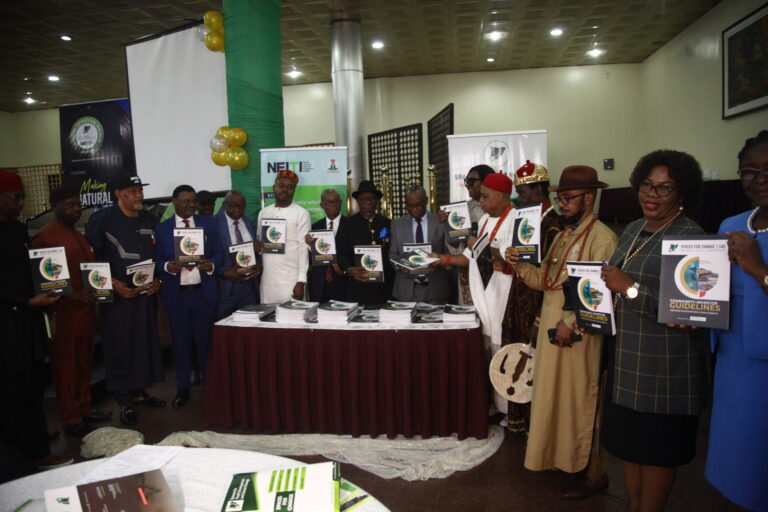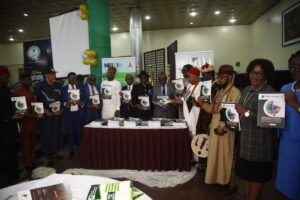 SPACES FOR CHANGE publicly unveiled the COMMUNITY-INVESTOR GUIDELINES (CIG) at the just-concluded National Extractives Dialogue, christened NED 2022, which brought together 172 stakeholders in the mining, oil and gas industry from Nigeria, Ghana and Senegal. The Guidelines have been developed to support host communities in engaging meaningfully throughout the lifecycle of an extractive project, from discovery and exploration, to planning, construction, operations, and closure. S4C and the Nigerian Extractive Industries Transparency Initiative (NEITI), with support from Ford Foundation, co-hosted NED2022 where the Guidelines was launched amid loud cheers and jubilation, especially among the host communities of extractive projects in Nigeria from Kogi, Gombe, Nassarawa, Ebonyi, Bayelsa, Imo, Rivers, Akwa-Ibom, Delta, Edo, Zamfara and so forth.
The CIG is a follow-on to the initial study conducted by Spaces for Change |S4C, "Natural Resource and Benefit–Sharing Negotiations between Host Communities and Extractive Companies: A Case Study of Assa-North and Ohaji South [ANOH] Gas Development Project" which red-flagged the extensive power asymmetry characterizing the relationship between extractive investors and host communities.  The Guidelines provide reader-friendly information about the duties and obligations of the investors as well as the rights that communities have regarding a range of issues, including land acquisition, compensation, and the ability to say "no" (Free, Prior and Informed Consent) to any new project. The Guidelines also include a range of tools and avenues for communities to claim these rights, including through investor-community agreements and how to translate these contracts into enforceable legal obligations.
Unveiling the report at NED2022, His Royal Highness (HRH) Eze Emmanuel Assor, Odozie Obodo 11 of Assa, Host Community, Ohaji-Egbema, Imo State, extolled S4C's longstanding support to communities either hosting or impacted by numerous extractive projects across the country. "Through S4C's interventions, our eyes have opened. We used to think that governments and corporations are doing us a  favour when social and economic infrastructure development projects are sited in our communities. We now know our rights. We now know that we have a right to benefit from the natural resources extracted from our backyards. Armed with the Guidelines, we will go back to our communities to claim and assert our right to a safe environment, and the right to participate in extractive industry operations", he said.
During the unveiling of the report, His Royal Highness (HRH) Eze Emmanuel Assor was flanked by Ms. Victoria Ibezim Ohaeri, S4C's executive director;  Malam Mele kyari, the Group Managing Director, Nigeria National Petroleum Company Limited (NNPC), represented by Mr Chris Akamairo, Group General Manager, Governance, Risk and Compliance, NNPC; Hon. Kingsley Uju, member of the Federal House of Representatives representing Ohaji Egbema Federal Constituency; Dr. Ogbonnaya Orji,  the Executive Secretary of NEITI, His Royal Highness (HRH) Eze Martin Nwali of Ameka Community, Ezza South, Ebonyi State; His Royal Highness (HRH) King Suanu TY Baridam, Gbenemene Bua Bangha II, Kasimene Bangha VII of Ogoniland; Engr Farouk Ahmed of the Nigerian Midstream and Downstream Petroleum Regulatory Authority (NMDPRA), Dr. Tony Ifeanya, Anambra State Commissioner for Petroleum and Natural Resources; Professor Peter Medee, former Rivers State Commissioner for Energy and Natural Resources; Dr. Michael Uzoigwe of the Extractives Industry Transparency Initiative (EITI) Anglophone West Africa;  Dr Oluwatoyin Akinlade of the Federal Ministry of Ministry of Mines and Steels Development, Mrs. Obiageli Onuorah, Acting Director Communications at NEITI, Ben Boakye, director of Africa Centre for Energy Policy, Accra, Ghana; civil society leaders, among others.
The Guidelines represents the collective work of many people, both in-house and external staff of S4C that diligently engaged in researching, writing, reviewing, editing, designing, up to the point of final production, with the generous support of the Ford Foundation.