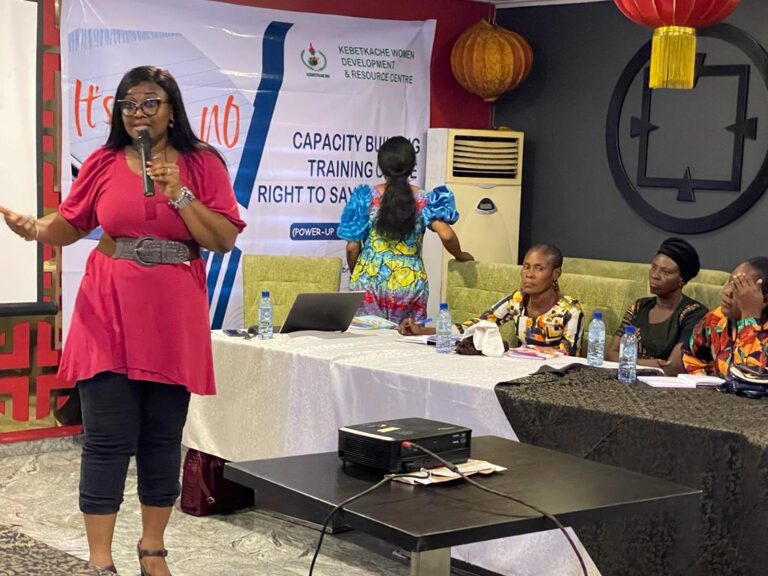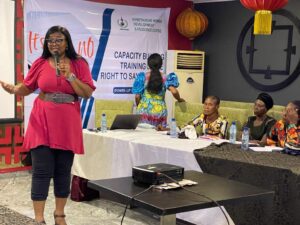 Extractive projects have both positive and negative impacts on communities. Because women are differently and disproportionately impacted more than any other group, they should be empowered to say NO to activities associated with major extractive projects that cause them harm.  This is the main thrust of the community workshop on the Right to Say No held on February 13 in Port Harcourt. 30 women from resource-rich communities across the Niger Delta participated in the workshop organized by Kebetkache Women Development and Resources Centre, with support from WOMIN African Alliance.
The community training workshop is an offshoot of previous research on The Right to Say No conducted across oil-rich communities in the Niger Delta which explored the legal foundations under national and international law that can be used to assert and enforce the principle of Free, Prior and Informed Consent (FPIC). The term, FPIC, refers to the right of individuals within a community, and the community itself, to say NO to unfavorable and harmful activities and practices by state and non-state actors. Spaces for Change|S4C conducted the research for Kebetkache and WOMIN consistent with its role of knowledge-building and capacity development for civil society organizations (CSOs) in Nigeria working on key thematic areas such as extractive governance, gender inclusion and civic space. Building new evidence through homegrown research forms part of S4C's strategy to find localized solutions for improving policymaking and empowering communities affected by extractive projects. Along this line, the training relied on research evidence to give voice and legal empowerment to women impacted mainly by oil and gas extraction projects.
S4C's presentation at the training workshop identified the historical disadvantages that women have faced as a result of large-scale projects such as deprivations of access to land, disinheritance, land dispossessions, forced displacement, and exclusion from compensation and decision-making etc. Across the length and breadth of the country, statistics show that women own less than 5% of land and properties in Nigeria. Over the years, women have adopted various strategies to resist these deeply-entrenched discriminatory practices strengthened by agelong traditional beliefs and norms.
Women in local communities can say NO to projects that are unfavorable to them, leveraging a multitude of mechanisms and legal opportunities available to them. A number of legal frameworks contain provisions that can be used to assert and advance FPIC principles such as the United Nations Declaration on the Right of Indigenous People (UNDRIP), the Land Use Act, Nigeria Oil and Gas Industry Content Development (Local Content Act) 2010, Environmental Impact Assessment (EIA) Act, Oil Pipelines Act, Petroleum Industry Act, etc. S4C walked participants through the various legal provisions that women and communities could use to demand increased legal protection against harms caused by business, investment or development operations.
FPIC offers a mechanism for communities and persons to say NO to unfavorable policies and situations at any stage of the project. It also imposes an obligation for the people/community to be fully informed about the advantages/disadvantages of a project sited in their locality. Whether in agreements between individuals or contracts between communities and companies, consent given by parties must be "free, prior and informed,". In short, consent that falls short of these criteria can be withdrawn at any time even after the person/community said YES before. For instance, it can be withdrawn if communities later notice an infringement or misinformation. The EIA Act is an example of a national law that imposes obligations on state and non-state actors to provide full information regarding the benefits and potential risks that proposed projects will have on the local environment. That way,  communities are able to understand the pros and cons of projects sited in their localities and raise objections where the risks outweigh the benefits.
Participants also learned about the new legal protections for host communities espoused in the Petroleum Industry Act, particularly regarding the obligation imposed on extractive corporations to establish Host Community Trusts (HCTs). What the HCTs have done is elevate the hitherto charitable gestures of corporations to the status of a legal obligation. Instead of setting up community development assistance programs or corporate social responsibility initiatives out of their company benevolence, corporations are now legally required to set up trusts as vehicles for delivering social and economic benefits to the communities where they operate. Failure to set the HCT is a legal ground for the revocation of an investor's operating license. Communities can take advantage of this legal provision to say NO to extractive projects that violate this obligation.
The training workshop ended with the facilitators sharing tips for improving social cohesion among community groups, women, and youth associations as a way of countering the divide-and-rule tactics of corporations. For instance, the practice of ignoring the existing traditional structures and setting up parallel ones has caused so much tension and internal strife in extractive communities in the Niger Delta. Localized mechanisms for facilitating engagement between communities and corporations must have adequate representation of women. This is one way of dismantling the preexisting traditional structures that often exclude women in decision-making and land compensation negotiations.