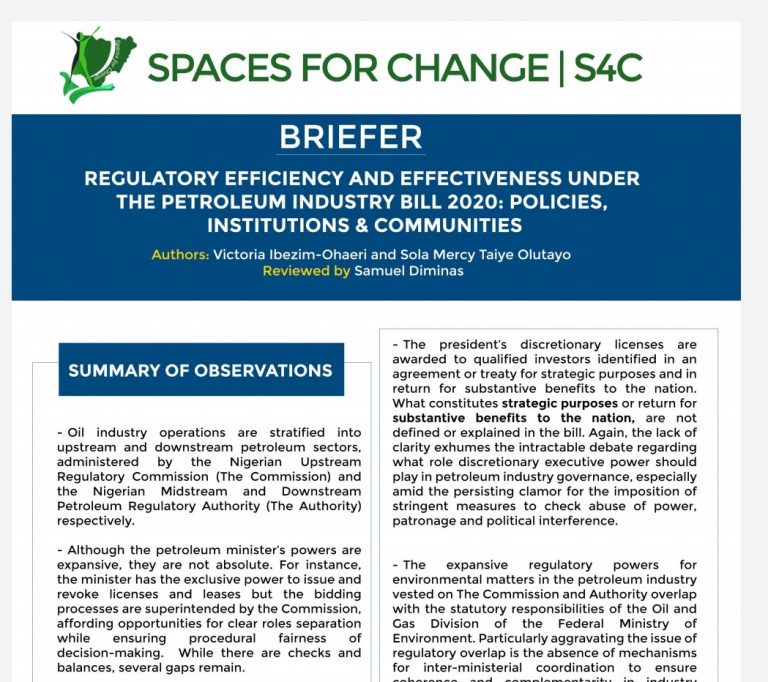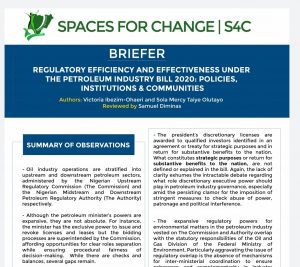 SUMMARY OF OBSERVATIONS
Oil industry operations are classified into two broad sectors; Upstream and Downstream, to be administered by the Nigerian Upstream Regulatory Commission (The Commission) and the Nigerian Midstream and Downstream Petroleum Regulatory Authority (The Authority) respectively.
Although the petroleum minister's powers are expansive, they are not absolute. For instance, the minister has the exclusive power to issue and revoke licenses and leases but the bidding processes are superintended by the Commission. This provides for the decentralization of control and decision-making powers, while ensuring procedural fairness in the decision-making process. While there are checks and balances, several gaps remain.
PIB 2020 retains the president's discretionary power to award licenses notwithstanding the bidding parameters laid out in the bill. By section 74 (3), 'the government' is empowered to direct the Commission to negotiate and award a Petroleum Prospecting License or a Petroleum Mining Lease. The Bill carefully excludes the name of the president and substitutes it with the term 'the government'. Previous versions of the PIB contain this provision and they all vested this power on the President.
The president's discretionary licenses are awarded to qualified investors identified in an agreement or treaty for strategic purposes and in return for substantive benefits to the nation. What constitutes strategic purposes or return for substantive benefits to the nation, are not defined or explained in the bill. Again, the lack of clarity exhumes the intractable debate regarding what role discretionary executive power should play in petroleum industry governance, especially amid the persisting clamor for the imposition of stringent measures to check abuse of power, patronage and political interference.
The expansive regulatory powers for environmental matters in the petroleum industry vested on The Commission and Authority overlap with the statutory responsibilities of the Oil and Gas Division of the Federal Ministry of Environment. Particularly aggravating the issue of regulatory overlap is the absence of mechanisms for inter-ministerial coordination to ensure effective policy directives and implementation.
Finally, oil and gas exploration and production host communities directly impacted by oil and gas operations bear the brunt of the persisting regulatory overlap and absence of coordinating mechanisms between agencies. The procedure and mechanisms through which individuals, communities and independent watchdogs can use to access, participate or challenge the decisions of regulators for upstream and downstream operations is unclear.