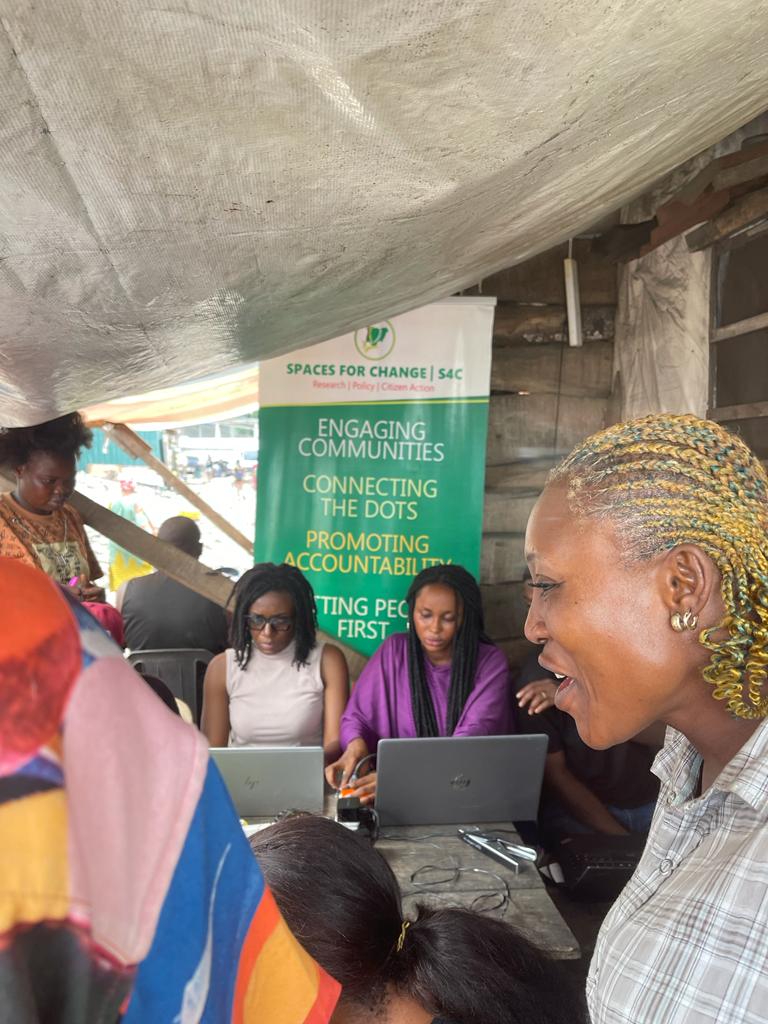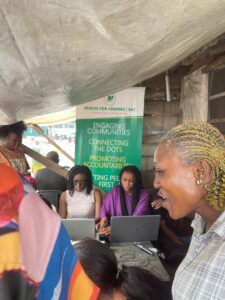 To deepen the participation and inclusion of marginalized groups in democratic processes, Spaces for Change | S4C and Communities Alliance against Displacement (CAD) were in Ebute Metta and Badia communities over the weekend of 28th– 29th May 2022 to conduct the online Continuous Voter Registration (CVR) for residents of informal and slum communities in preparation for the 2023 general elections. Three hundred (300) persons got registered over the two days. Ebute Metta and Badia communities are densely-populated informal communities in Lagos, ravaged by recurrent evictions, demolitions and the forced displacement of the predominantly poor urban populations who live there.
Whether displaced by state-ordered urbanization-induced demolitions or natural disasters, displaced communities are not only marginalised but also face unique challenges when it comes to voter participation. The challenges include loss of Permanent Voters Card (PVCs) in the course of forced relocation, destruction of PVCs during relocation and through natural disasters like flooding or fire, relocation of polling units and the lack of access to credible information as a result of their living arrangements. These challenges are exacerbated by the almost-zero government presence in these areas. Because they often lack access to up-to-date electoral information, the residents are also vulnerable to the antics of vote-seeking politicians who peddle all sorts of inducement, misinformation and disinformation to sway the gullible and disrupt the legitimacy of the election process.
The CVR registration program was carried out under the auspices of the S4C's Housing and Urban Governance (HUG) program. With or without external funding, S4C's HUG thematic program works to facilitate the inclusion of marginalized communities in social, economic and political governance processes. Armed with own laptops, printers, internet devices, S4C staff and a team of volunteers from CAD flagged off the campaign to make local community voices count during the elections. Over 300 residents of Ebute Metta and Badia, who have attained voting age, trooped to the registration centers to participate in the exercise. With a lot of excitement, residents provided conducive spaces for registrants to queue and mobilized their neighbours, friends and family members to take part. Skillfully navigating the language barriers, S4C staff and volunteers were able to conduct a seamless registration.
Due to lack of access roads to the into the informal communities, registration centers are hardly stationed near them. Residents have to trek long distances to other districts before they can register to vote.  Elated residents expressed appreciation for the opportunity to take the first step towards participating in the forth coming elections, with many of them announcing that they will now be able to use their PVCs as a tool for demanding social amenities in the area. They lamented the absence of adequate housing structures, modern social amenities like pipeborne water, toilets, healthcare centers and schools.  Armed with their PVCs, residents are hopeful that they can now effectively demand for change through the ballot box.
As the elections draw near, S4C will diligently ensure that the community members not only get their PVCs but also are sensitized on how to use them responsibly. S4C is working to see that the Independent National Electoral Commission (INEC) prioritises these communities in the biometric data collection processes and issuance of PVCs. Plans are underway to kickstart campaigns to sensitize community members about safeguarding their votes and ensuring that the results are transmitted as stipulated in the Electoral Act. S4C proceeds upon the premise that the inclusion of people living in slum and informal communities in governance processes isn't just a rhetoric: it is must be accorded priority.