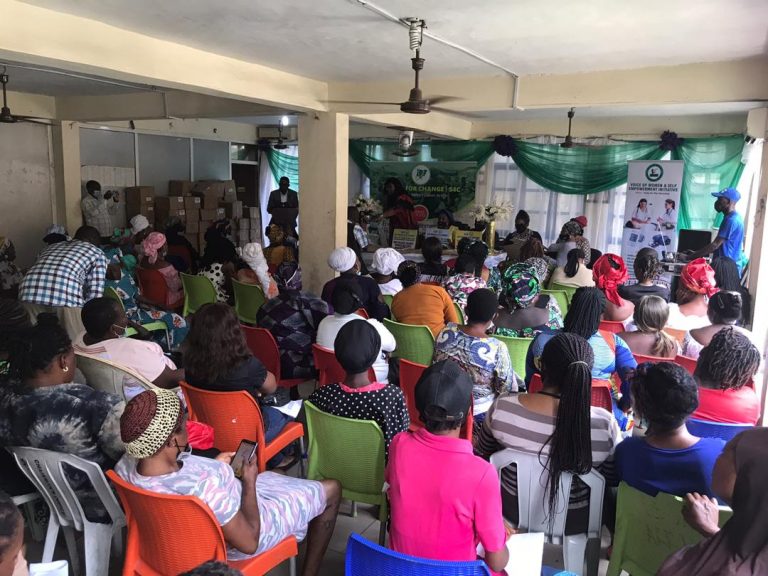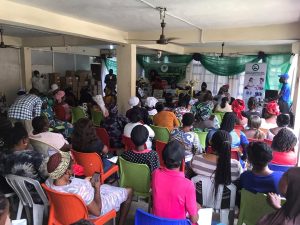 In commemoration of the 2021 International Women's Day (IWD 2021), SPACES FOR CHANGE| S4C, in collaboration with the Communities Alliance against Displacement | CAD, organized a sensitization workshop for women living in Lagos informal communities, titled: ELIMINATING GENDER INEQUALITY AND THE FEMINIZATION OF POVERTY. The sensitization workshop, held at the Lagos Mainland Local Government Secretariat Hall, was attended by over 100 persons from the informal communities, women-focused groups, media, civil society and government agencies in Lagos, namely: the Ministry of Commerce, Industry and Cooperative, Women Development Center, Lagos Mainland Local Government Area Council, Ministry of Women Affairs and Poverty Alleviation, Lagos State Employment Trust Fund (LSETF), Nigeria Council of Women Society, Lagos Market Women Association, Lagos Community Youth Development Initiative, Voice of Women & Self-empowerment Initiative and community leaders and residents of Lagos Mainland and Apapa communities.
In her opening remarks, S4C's Executive Director, Victoria Ibezim- Ohaeri, decried the institutionalized inequality in the distribution of urban infrastructure across neighbourhoods in the state which has resulted in some areas having more amenities and greater access to basic services, and the latter with the least access regarded as blighted settlements that need urgent and mass clearance. Mass clearance exercises disproportionately affect women and their livelihoods, and in turn, bolsters female poverty. Also, the dearth of leadership opportunities for women in the formal sector is equally concerning. Financial institutions have structured access to capital in ways that grant men-run businesses huge capital grants while reserving micro-credits for women-run enterprises. All these trends have helped to entrench the perception of poverty as female. To overturn this trend, education and empowerment of women in the informal communities are vital tools for bolstering women participation and inclusion in decision-making processes and for initiating urgent action to challenge discriminatory practices and injustices in public and private life affecting them.
Zikora Ibeh, S4C's Civic Space Program Officer and Prudence Edward Gogo Abass, a Public Administrator, representing Mrs. Rashidat Omolola Essien, Chairman of Lagos Mainland Local Government Area, of Lagos State, led the first panel discussion titled: The Power of Partnerships in Achieving Gender Equality in the Social and Political Territory. Zikora described 'gender equality' to mean equal access to opportunities, resources and participation in decision-making processes regardless of gender. She further outlined strategic steps to achieve equality in the workplace and the society as a whole. These include – entrenching positive gender values in raising children at home; creating spaces for more women to thrive in business and politics; and rejecting implicit biases, discriminative attitudes and gender perceptions that are harmful to women, amongst other factors.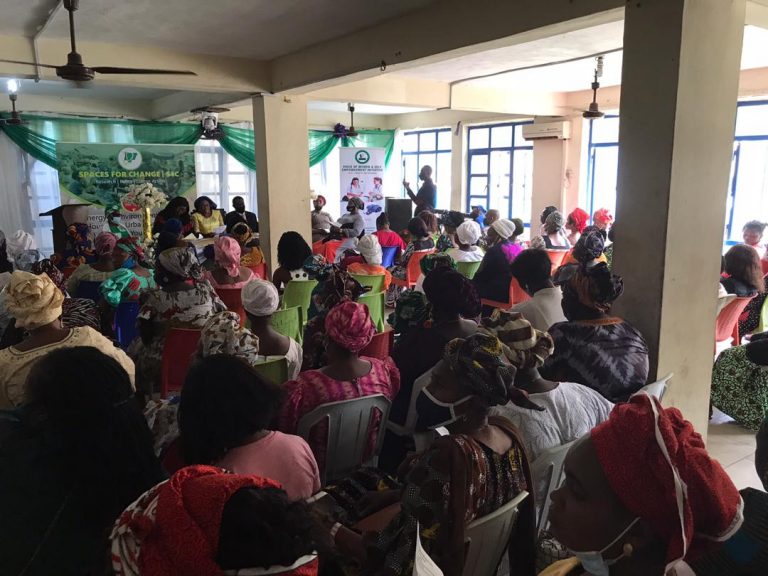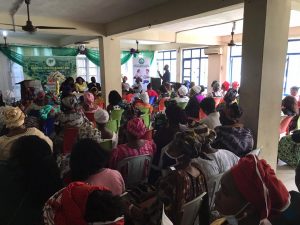 Similarly, Prudence Edward Gogo Abass, a Public Administrator, representing Mrs. Rashidat Omolola Essien, Chairman of Lagos Mainland Local Government Area, celebrated women's numerous accomplishments in every sector of the national economy and acknowledged the good works of women's rights advocacy groups across the country. On bridging the gender gap in politics, Prudence discussed the barriers against women who aspire to public offices, the biggest barrier being a culture of bias and prejudicial treatment based on gender. She emphasized the importance of promoting meritocracy in politics and the society at large. To achieve an equal and enabling world, women should focus more on personal growth and development, eradicate fear of failure and support one another.
The resurgence of extreme poverty as a result of the pandemic has exacerbated precarious living conditions of women in informal communities across the country. In other to address this issue, the second panel discussion titled, Economic Security and Financial Independence for Women in Lagos State, primarily aimed at exploring economic initiatives and opportunities designed by the Lagos State government for women and the requisites for accessing them. The panelists at this session include representatives from the Lagos State Ministry of Commerce, Industry and Cooperative, the Lagos State Women Development Center, Lagos mainland Local Government Area Council, Women Affairs and Poverty Alleviation Office and the Lagos State Employment Trust Fund (LSETF).
The Lagos State Women Development Center was established to empower women in local communities through vocational trainings and basic literacy workshops. To achieve its objective, the center organizes free short-term vocational skill acquisition training programs to tackle unemployment among women in the state. Another governmental initiative to promote women empowerment is the LSETF Micro Enterprise Startup Loan. Beneficiaries can access up to N250, 000 payable in 12-15 months at 9 percent interest rate per annum. Participants at the sensitization workshop were advised to register at designated liaison centers in their respective local government secretariats to take advantage of these economic opportunities. Similarly, the Lagos State Ministry of Commerce, Industry and Cooperative recently launched some initiatives geared towards empowering women in Lagos State. One of those initiatives is the Annual Trade Fair designed for small business owners to exhibit their products at no cost. The Ministry has also partnered with the Federal Government to launch the Eko Fashion Hub – a fashion cluster shared facility for medium and small scale enterprises in Lagos State. The shared facility provides high-quality operating equipment for small businesses at an affordable rate. The Ministry's representative expressed their willingness to collaborate with S4C to bolster women empowerment and inclusion, among other issues.
During the interactive session that followed both panel discussions, Kehinde Akintobi from Lagos Community Youth Development Initiative questioned the trend where employers, especially in the private sector, prefer to hire unmarried women to married women. In her response, S4C's Executive Director acknowledged the difficulties of balancing seemingly dueling responsibilities of family and career faced by many women in the formal sector.  She advised organizations to adopt an in-house crèche policy to provide childcare services for their employees. She emphasized that adopting this policy will not only boost women's participation in the formal sector, it will enhance corporate performance and contribute to economic growth.
Conclusively, participants at the sensitization workshop expressed their gratitude to S4C and CAD for organizing the sensitization workshop. Overall, participants reported increased awareness and challenged themselves to take bolder steps to achieve gender equality and women inclusion in their homes and local communities.