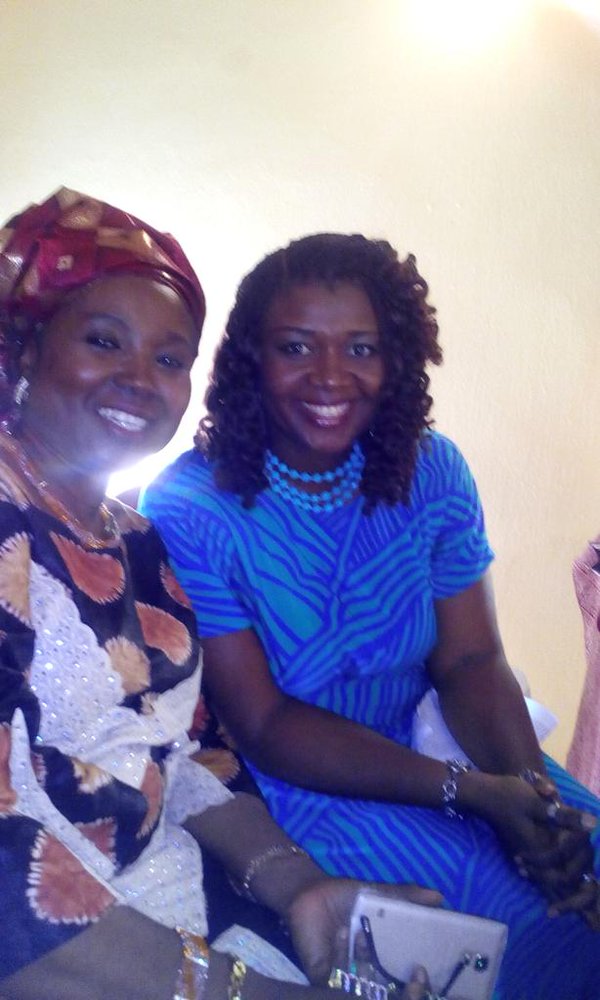 The alumni body of Owerri Girls Secondary School (OGSS) conferred Spaces for Change's executive director, Victoria Ohaeri, with a Medal of Honor/Award of Excellence at its 60th anniversary held on October 23, 2015 in Owerri, Imo State. Ms. Ohaeri, class of 1995, is the youngest old girl of the school to be conferred with the highest Medal of Honor in recognition of her strong contributions to the promotion of girl-child education and youth development in Imo State and beyond. She was honored alongside other old girls of the school such as Professor Mrs. Viola Onwuliri (former minister of Foreign Affairs and ex-minister of education); Senator Chris Anyanwu(represented Owerri Federal Constituency in the Nigerian Senate between 2011-2015); Mrs. Theresa Okonkwo (former principal of OGSS for 30 years) and Reverend Stanford Nwogu (who was also one of OGSS's longest-serving teachers).
Presenting the award to her, the Speaker of Imo State House of Assembly, Honorable Acho Ihim – who represented Governor Rochas Okorocha of Imo State – praised Victoria Ohaeri for her demonstration of academic excellence within and beyond the shores of Nigeria. By so doing, she continues to provide a wellspring of inspiration that millions of Imo youth can draw from, consistent with Imo State Government's commitment toward strengthening the educational sector.
"Although Victoria's recognition is coming somewhat too soon, the award however breathes life into the Igbo proverb which says that a child that washes her hands properly will eat in the same bowl with the elders," the chair of the occasion, Chief Chukwuma Ekomaru SAN, added in jocularly.
Accepting the award, Ms. Ohaeri stated that the greatest of honor can only come from one's peers who witnessed the very beginning and the various chapters of the struggle to overcome. "For me, this award is intensely motivating, and represents an urging "to go and do more."
Ms. Ohaeri also delivered the guest lecture – Women's Roles in National Development – at the anniversary ceremony.  Powered by the sheer determination to reverse deep-rooted inequities and exclusion that have historically limited their potentials, Nigerian women are gradually breaking the barriers of silence, stepping into decision-making arenas that were previously the exclusive preserve of men. Within the boardrooms of public and private sector-led corporations, women voices are now being heard more loudly than ever. Despite the progress being made, the policies and programs of government at all levels still skew less attention to the huge deprivations women face throughout their lives, which cause them to lag behind socially, economically and politically.
For instance, a cursory look at the proposed federal cabinet of President Muhammadu Buhari shows that Nigeria has rolled back on the gains of fair gender representation in the highest levels of decision-making made between 2011- 2015 when the country witnessed a significant leap in women's visibility in governance circles and contribution to social and economic development.
Not only that, the slight increase in the number of female federal legislators witnessed in 2007 dipped in 2011; and dipped even further in 2015, representing a far cry from the 30 per cent affirmative action prescribed by the 1985 International Women's Conference in Beijing, China. Only seven female Senators (7.63 per cent) and 19 Reps (5.28 per cent) were elected in 2011 in sharp contrast to the nine female senators and 25 Representatives elected in 2007. Only 7 females out of the 109 senators made it to the 8th Assembly.  The consistent decline in the number of women that win elective offices provide support for the principle of affirmative action or quotas for women in policy-making positions. Absent affirmative action or a quota system – as has been the case in Rwanda where the target of 30 percent of women in parliament has been achieved  –   pre-existing social norms that associate leadership with men may make it harder for women to enter the political arena. Injustices against women are not likely to be eliminated except persons who can make laws and policies that better reflect women's priorities are allowed to take up specific roles.
"As privileged women – former students of Owerri Girls Secondary School – who have been given the best of educational foundation, and groomed for the future with the highest standards, we must rise to the challenge by working together to review sordid trends, replicate best practices and take concerted action towards promoting and sustaining women's capacities to contribute to economic growth and development.
Women need a platform where they can learn from one another and mobilize for action. The OGSS alumni that is now active in many countries is one of such platforms. Let us use it to engage the state and federal authorities. Let us use it to effect and influence change within our communities, our state and our homes. We need to create spaces for mutual exchange to explore how we can create more jobs; get increased access to credits; grow more food; access better healthcare and education, and bring more hope to households who depend on their labor," Ms. Ohaeri concluded.