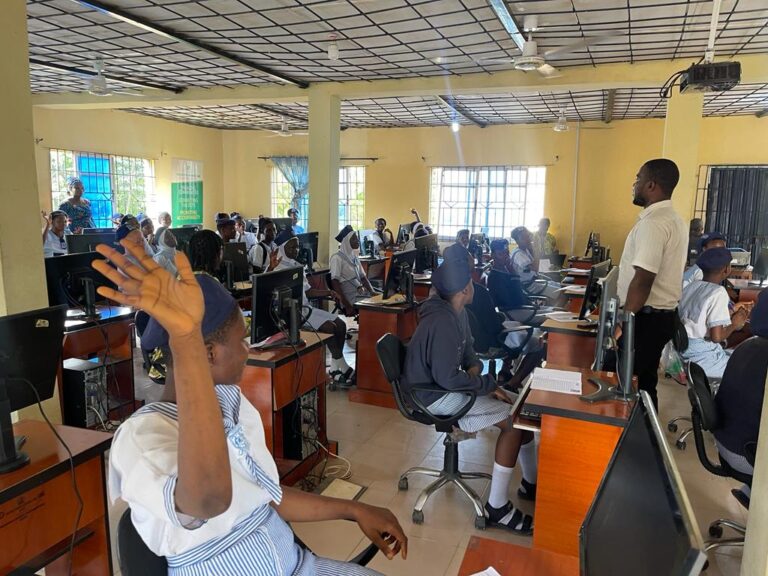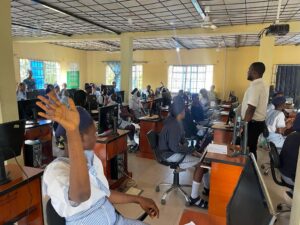 Between October 10-13, Spaces for Change | S4C embarked on a digital safety awareness campaign to enhance digital literacy and online safety among secondary school students in Lagos State. Coinciding with the International Day of the Girl Child, S4C's digital rights sensitization program equipped over 300 students, especially teenage girls, with the knowledge of responsible internet usage and countering potential risks in the digital sphere. The awareness program was conducted under the auspices of the e-RIGHTS project, a collaborative campaign between Spaces for Change | S4C, Avocats Sans Frontieres (Lawyers without Borders, France), and the Centre for Information Technology and Development (CITAD), with support from the European Union Commission.
The digital safety campaign reached four secondary schools in Lagos, namely: Lagos State Girls Model College, Agunfoye; Government Senior College, Agege; Lagos City Senior College, Yaba and Ikeja Senior High School, Ikeja. Divided into two parts, the first part of the sensitization program focused on responsible browsing while the second elucidated online harms faced by teenagers and the strategies for staying safe online. Responsible browsing encompasses the purposeful use of the internet for education, research, skill development, collaboration, and effective communication. Instructive platforms that can help teenagers use the internet responsibly for educational purposes and for expanding their knowledge beyond the standard school curriculum include Khan Academy, ULesson, and Mathletics.
In the second session, students learned about the risks that they may be exposed to while using the internet. The safe space provided and the highly interactive nature of the session enabled the students to open up and share their personal experiences. There were incidents where teenagers had innocently shared information online which later put them in difficult situations. They received guidance on how to report incidents of cyberbullying, blackmail, sexual abuse and other forms of harassment online. They also learned about protecting their digital footprints, detecting misinformation and story verification techniques. Most importantly, the sessions harped on privacy protection techniques as well as how to use the privacy settings on social media platforms to protect their identities online.
Though targeted at teenagers, the sessions had a profound impact on the parents (district supervisors, school counselors, and teachers) in attendance. Many of them testified that they were ignorant of the enormity of threats that teenagers could face online. Now that they are better equipped to guide the students better on responsible browsing, they also expressed interest in extending the training to other non-teenage students during the school's Information Communication and Technology (ICT) lessons. S4C has continued to receive requests for sensitization across Lagos schools. The stories shared by the students prompted S4C to setup a hotline for teenagers to report incidents of online threats. S4C is also exploring referral partnerships with dedicated Lagos State Government agencies responsible for addressing online threats and harms.
Today's rapidly-evolving digital landscape necessitated this campaign as teenagers are increasingly relying on emerging technologies for their education and other needs. Despite the many positives of the internet-age, this increased reliance on digital technologies exposes them to potential risks such as cyberbullying, online harassment, misinformation/disinformation, and privacy violations. The sensitization program was thoughtfully designed to address these challenges directly, empowering teenagers with the skills needed to navigate the digital world safely. This campaign represents a crucial step in addressing the challenges faced by teenagers in today's digital world. By raising awareness and promoting a culture of digital responsibility, S4C is empowering Nigerian youth to leverage the benefits of the internet while staying safe and protected.