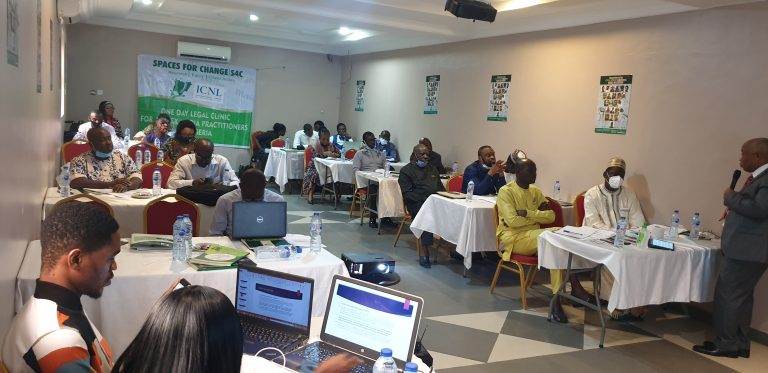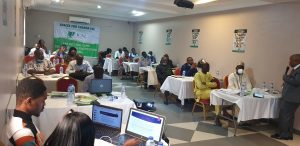 25 journalists, bloggers, and media organizations drawn from the six geo-political zones of Nigeria gathered in Lagos, Nigeria, for a one-day legal clinic hosted by SPACES FOR CHANGE | S4C on the 9th of June, 2021. At the legal clinic, supported by the International Centre for Nonprofit Law (ICNL), at-risk media practitioners gained an understanding of the applicable laws relating to press and internet freedoms, opportunities, and resources that enhance their journalistic operations and ensure personal safety while working in difficult terrains. The legal clinic for journalists was crucial and timely given the increasing onslaughts on media freedoms in Nigeria.
At the beginning of the Clinic, S4C's Executive Director, Ms. Victoria Ibezim-Ohaeri shared the findings from the Closing Spaces Database which recorded press freedom as one of the most-violated core elements of civic space. Beginning from 2015, S4C has been tracking and documenting incidents of restrictions on the civic space in Nigeria and West Africa. The database classifies incidents according to the rights and freedoms violated as well as the drivers of those crackdowns. Categories include press freedoms, free speech, association and assembly rights  terrorism-financing, digital surveillance etc. It also details the mode of attacks on civic actors such as the identity and gender of victims, perpetrators, and location of attacks. Data profiled on the database are routinely gathered from verified media outlets and eyewitness reports. Beyond serving as a civic space monitor, the database is also a one-stop-shop that provides every user with invaluable civic space information and resources to organize campaigns, interventions and advocacy for social justice and change.
In a presentation, titled, Media Practitioners and the Law, Professor Paul Ananaba, SAN, highlighted the role and importance of the media as a watchdog in society and influencer of public opinions. As an occupation fraught with risks, it is imperative for media practitioners to adopt a more circumspect and fair approach to presenting news and information to the public in order to avoid legal risks like libel, sedition, or defamation lawsuits that may arise from publishing and broadcasting. Practical tips and suggestions shared with participants for avoiding liability include attributing news information to credible sources, fact-checking information to eliminate falsehood, refraining from expressing opinions that diminish the character of a person in eyes of the public and court. Participants also learned extensively about restrictive legislations like the Hate Speech and Social Media Bills that portend grave implications for free speech and media freedoms, and the legal defences available to media practitioners who still get into trouble after taking all the necessary precautions.
Habeeb Adebisi, a digital security expert from Co-Creation Hub walked participants through cyber-attacks and cyber-terrorism. In addition to physical surveillance, attacks, intimidation, threats, and associated legislative restrictions, media practitioners also face increasing cyber-attacks and challenges to their safety, communications, and work on the internet. Most cyberattacks rely on and exploit elements of vulnerability in the target's digital space to undermine or compromise the work of targeted actors. Common forms of cyberattacks include malware – which is a type of application designed to spy on a victim's digital landscape to obtain valuable information, phishing – a form of attack where an intruder tricks unsuspecting victims to part with valuable information, such as passwords, credit card details, etc. Usually, phishing attacks arrive in the form of an email from a legitimate entity such as banks or any other trusted institution that victims are familiar with. Other kinds of attacks include Man in the Middle, Distributed Denial of Service (DDOS), Business Email, Compromise (BEC), etc. Accordingly, participants learned about safety measures that could be used to secure their footprints and journalistic operations online.
Regaling participants with anecdotes from his field experiences as a security expert and retired former Commissioner of the Nigerian Police, Mr. Frank Odita,  shared safety tips that media practitioners can follow to detect, preempt and avoid danger. As Dele Giwa's case demonstrate, journalists often face challenges such as abductions, imprisonments, and assassinations in the course of performing their work. Hence, ''security awareness is one of the cost-efficient ways to reduce the risk of breaches and incidents that can harm an individual or organisation''.
Ms. Ehizefua Edeh of Social Impact Consulting concluded presentations for the day by informing participants about the various resources and safety houses open to at-risk human rights defenders and journalists. Some of the resources include data security (antivirus, Firewall, Secure Servers, etc), Virtual Private Networks (VPNs), security resources like sandbox from Frontline Defenders, Psychosocial support, legal, medical, and other support from institutions and programs like the Centre for Democracy and Development, Spaces for Change legal Helplines, Urgent Action Fund Africa and the Joint Civic Defense Fund. The at-risk media practitioners also understood the application processes for receiving support from help programs and bodies like the Joint Civic Defense Fund, Amnesty International, Tigress organisation in Ghana, Committee to Protect Journalists, etc.
The robust presentations at the clinic were punctuated with debates, question and answer sessions and groups exercises among participants. The safety exercises performed during one of the sessions enabled participants  to evaluate their level of digital security and secure their digital footprints on the internet.
FEEDBACK:
What were the things you liked most about the training?
All topics are very helpful and interesting
Security
The former commander of police
The cyber security presentation
All the facilitators are experts in their respective space.
Cyber security and premium available to civic space defenders
Selection of resource persons is commendable
Discussion on digital security for journalists
Very pragmatic sharing of knowledge by resource persons, practical life and professional experiences that can help us as media practitioners to protect ourselves, reduce risks and ensure free civic space in Nigeria in spite of threats by government to close or obstruct it.
Very interactive
The tea break and the lunch. The facilitators and the training materials.
All aspects of the training, especially the presentation on Closing Spaces Database
I liked the welcoming and easy atmosphere. I also liked how relevant the issues discussed were.
I liked all the facilitators brought for the training because their topics are just on point and transformative
Everything- it was insightful and enlightening
The hotel, resource material, facilitators and the total ambience.
The training was insightful and the resource materials provided would be useful in my work going forward
The resource persons and the topics discussed
What aspects of the training could be improved?
If possible, the clinic to be a two-day program
Public address system
Time management
More time needed for in-depth analysis of the topics
Allocate more time to resource persons for interactive sessions with practitioners.
Perhaps more group activities to improve participation and better information assimilation.
None
I would have loved if it was a two-day workshop. It would have created more time for questions and interactive session.
One day is not enough, could make it a two-day or more event next time.
How will this training influence your media / reporting / journalistic practice?
It gives me the clear picture of physical and digital security
In the area of coverage of elections
Security awareness
Cyber security
New tools, resources and unpublicized or inaccessible laws exposed in the performance of my job
Going forward I would be more security conscious.
Encouraged to be fair and more objective in my reportage. I am better informed now.
Recognizing threats and how to survive it.
Nuanced language and reporting in order to protect self. Access to possible help when in need
Please share other comments
Want all the papers presented to be forwarded to our email address.
Good coordination of the programme and nice presentation and clarity of each presentation
I shall recommend Spaces for Change to a colleague
This workshop is timely and has better positioned me to work safely
I am happy to be part of the programme and wish to contribute in future programmes.
I really love this meeting to be a two-day conference because it's very educative. Again, I will like this conference to be aired by social media/their presence to be available at such a conference.
When would the next workshop take place and can it be sub-regional?
Looking forward to more training.
We need to make the workshop regular and move down to South East next time.