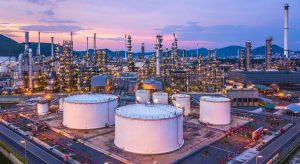 SPACES FOR CHANGE is excited to partner with the Institute of Development Studies (IDS), Institute for Social and Economic Studies (ISES) and PowerShift Africa on a project to 'Make Space for Dialogue on a #JustTransition in Africa's oil and gas producing regions. Building on previous research on civic space and the politics of energy policy in Africa and on strong partnerships with national and local organisations, this research project aims to identify challenges, enabling conditions and entry points for ensuring inclusive deliberation on what a just transition would look like for the citizens of oil and gas producing regions in Sub-Saharan Africa.
The oil and gas sector offers some of the greatest challenges and opportunities for global efforts to secure a just energy transition. Africa is a key oil and gas producing region, but it is also the part of the world that is most vulnerable to climate change, despite having the smallest historically accumulated carbon footprint.. In the Niger Delta region of Nigeria, there have been decades of contestation over the environmental and social impacts of oil and gas extraction and the distribution of the revenues it has generated for corporations such as Shell and for national and local political elites, while benefits are perceived as hardly trickling down at all to indigenous communities. Community agitations have led to facility shutdowns and revenue losses and have frequently been repressed with force, resulting in widespread human rights abuses.
In more recent investments such as the USD700m Shell/Seplat ANOH Gas Development Project, companies have introduced new strategies and spaces for negotiation with communities over the share of natural resource extraction benefits, but a recent study by Spaces for Change found that the benefit-sharing negotiations between companies and communities fail to meet the internationally-recognised criteria for free, prior and informed consent (Ibezim-Ohaeri and Nosayame 2021). With bated breath, industry watchers are looking to see whether the recent presidential assent to a new petroleum industry law will brigde the gaps in community access to natural resource benefits and strengthen stakeholder engagement and cooperation on the revenue share allocated to local communities. Not only that, national legislation and policy frameworks still emphasise growth in fossil fuel production and use as the key national development pathway, fuelling concerns around the feasibility of just transition.
The focus of the proposed programme of work is to build rapid qualitative evidence from local, state, national and global levels that will show different perspectives on a just energy transition for communities in three African oil and gas producing areas. This will enable the project to make recommendations on what the priorities and entry points should be for ensuring that the voices of citizens and civil society actors from those settings can be part of a more inclusive process of deliberation on just transition locally, nationally and globally.
Under this project, SPACES FOR CHANGE will conduct field missions to target locations in the natural resource extraction zones, specifically Imo, Rivers and Bayelsa State all in the Niger Delta region of Nigeria. Rivers & Bayelsa States are two of the largest oil-producing states in Nigeria accounting for almost 40%  of the total crude oil production in the Niger Delta region. Also, Assa Community in Imo State is the host community of OML 53, major flow stations of oil companies, and in particular the Assa North and Ohaji South (ANOH) gas development project in Imo State. The ANOH project is set to be one of the largest greenfield gas condensate development projects in Nigeria to date, with the expectation that future gas production from the project will supply the domestic market. Key informant interviews and facilitated dialogues involving key stakeholders across targeted locations will lay the foundation for mapping and interrogating different actors' navigation of civic and informal negotiation spaces, compare and contrast meanings of just transitions among different groups and identify pathways and obstacles to inclusive deliberation. This research is supported by the British Academy.