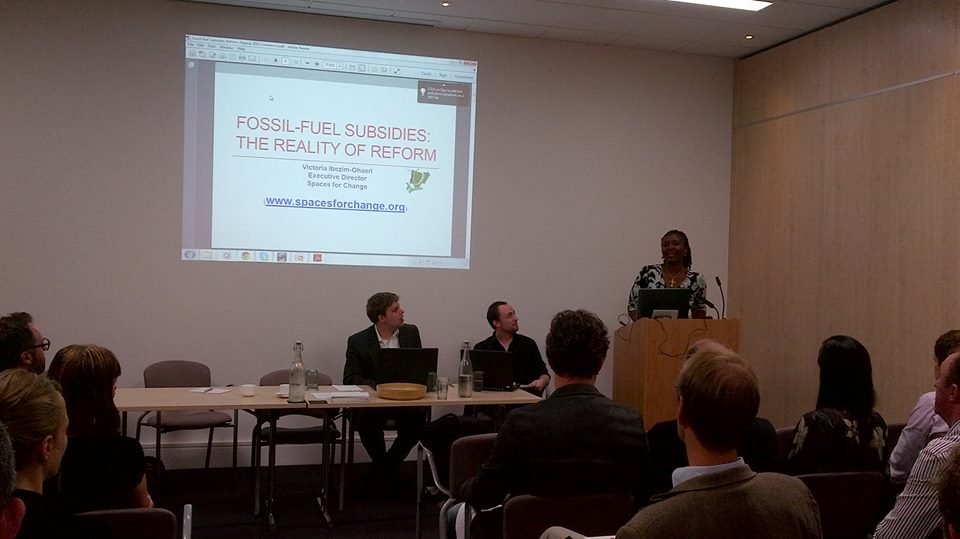 Spaces for Change is partnering with the  Global Subsidies Initiative (GSI) of the IISD Energy programme to launch a research initiative focusing on energy empowerment, energy sector reform and impacts for gender. Proceeding from a gender perspective, Spaces for Change's research seeks to build the evidence base for improving the effectiveness of energy interventions in Nigeria. It will examine the impact of subsidy reform on petroleum prices for electricity generation (via generators, kerosene, diesel as well as on income (including SURE-P and other cash transfer schemes). Other fuel types that would need to be considered include sawdust, charcoal, corncobs and candlewax.
The impact and opportunities for women and girls, particularly around energy empowerment from energy sector reform is potentially important, in lighting, cooking, transport fuels and across the electricity sector. The opportunity costs from current subsidies are considerable. Removing subsidies unlocks potential savings that could be invested and directly at energy empowerment activities that benefit women and children directly.
This new research area  supported by ENERGIA will aim to bring out more information on the gender implications of energy sector reforms undertaken in Bangladesh, India and Nigeria. The research is aimed at working with policy makers to consider the gender implications of energy sector reform and invest energy empowerment through infrastructure or cash transfers to women directly, before announcing and during the implementation of energy sector reforms. The research from the programme will be available in papers published by IISD, the consortium members and in peer-reviewed journals over the next four years.