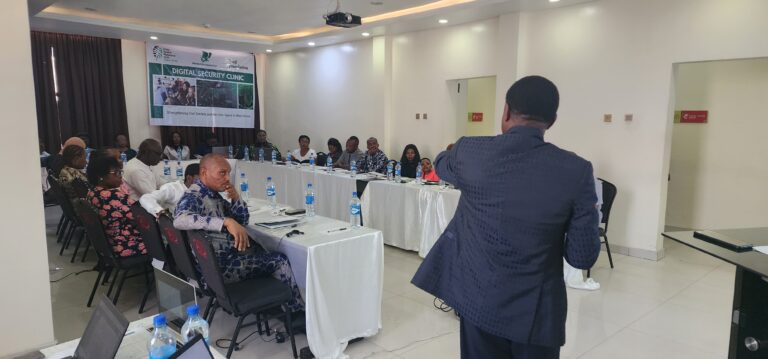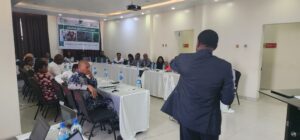 Spaces for Change's | S4C's Digital Security Clinic (DSC), held on July 10-14 in Port Harcourt and Owerri, equipped fifty (50) media and civil society organizations (CSOs) in the South-East and South-South geopolitical zones of Nigeria with the knowledge, tools, and resources to effectively respond to cybersecurity challenges and digital threats associated with their work as activists, journalists, and changemakers. The just-concluded DSC is the second in the series of the Ford Foundation-backed Civil Society Resource (CSR-hub) Hub services designed to increase the ability of target groups to prepare for, defend against, recover from, and navigate the challenges that come with their increased reliance on digital technologies to cover and report news, influence public policies, conduct outreaches and deliver services to communities in greatest need.
The DSC's eight interrelated courses taught over two days in each location focused on diverse fields of cybersecurity. Through bespoke presentations by seasoned experts, interactive sessions, and practical exercises, participants gained knowledge of the forms of digital threats to their work such as targeted surveillance, ransomware attacks, data breaches, phishing, distributed denial-of-service (DDoS) attacks, and other cyberattacks that can be perpetrated by both state actors and malicious non-state actors, underscoring the necessity for proactive safety measures.
The first course teaches the vital connections between digital technologies and human rights, and the legal frameworks at the national, regional, and international levels espousing these standards.  Other courses take a deep dive into the digital landscape in West Africa, examining popular trends such as internet affordability, internet penetration, and the state of internet freedoms across the region. They also delved into national and international data protection regulations, app permissions, surveillance ecosystems, and techniques for safeguarding sensitive information. The practical exercises on encryption and safety tools afforded opportunities to apply the knowledge gained to real-life scenarios.
Acknowledging the unique risks faced by women and marginalized communities online, one of the courses focused on navigating digital safety through a gendered lens. The session explored how misogyny is permeating online spaces through tactics like slutshaming, doxxing, trolling, cyberbullying, etc. and recommended ways of improving women's safety online.  Despite taking all the necessary precautions, activists and journalists may still get into trouble. One of the courses shed light on the available recourse mechanisms coupled with the formal and informal social protection mechanisms and resources available to human rights defenders in West Africa.
Overall, the Digital Security Clinic highlighted the interconnectedness of digital rights, cybersecurity, and the civic space. Elated participants left the clinic with a better understanding of the tools and tactics to safeguard themselves and their organizations from cyber threats. One participant said: "I have deleted several apps on my phone after this training". Another said, " After listening to the second presenter, I have adjusted my privacy settings on all my social media accounts." These personal stories not only underscore the impact of the training on participants but also show how they are beginning to take their digital safety more seriously. Building a culture of digital safety is necessary for enthroning a resilient and secure civic space in Nigeria and West Africa at large. As they continue to champion social justice, transparency, and accountability, the DSC's impact will be evident in their empowered actions and safer digital advocacy efforts.