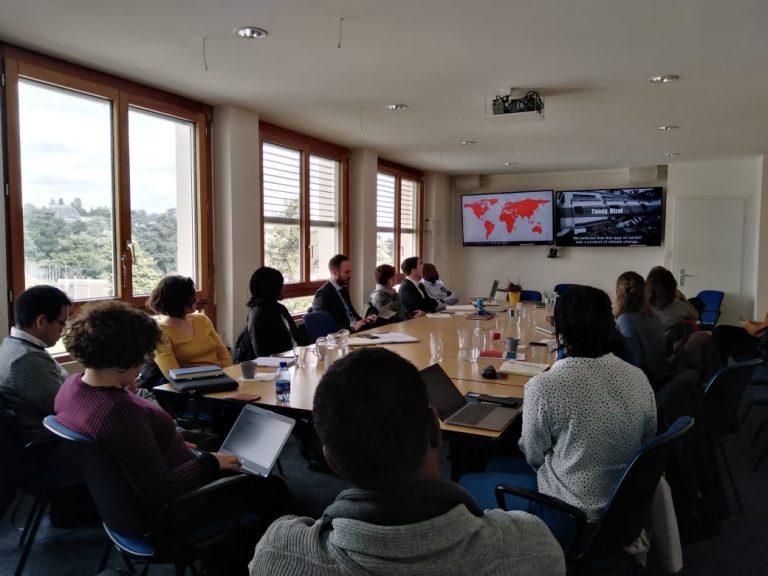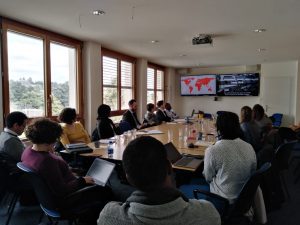 From March 04 – 06, 2020, SPACES FOR CHANGE's Aizighode Obinyan joined housing rights advocates from El Salvador, Philippines, Cameroun and Germany at a Speakers Tour in Geneva, Switzerland, organised by the Global Initiative for Economic, Social and Cultural Rights (GI-ESCR) and MISEREOR, the German Catholic Bishops' Organisation for Development Cooperation, Aachen, Germany. In a private briefing with the United Nations Committee on Economic, Social, and Cultural Rights (UN-CESCR) during the tour, she discussed housing rights in the context of urbanisation, environmental degradation, climate change and climate policies in Nigeria. She also participated in a side event during the 43rd session of the UN Human Rights Council and held meetings with staff of the United Nations Office of the High Commissioner for Human Rights.
Joining Ms. Obinyan at the Speakers Tour were Ms. Jaqueline Martínez, Fundación Salvadoreña de Desarrollo y Vivienda Mínima, El Salvador, Mr. Jules Dumas Nguebou, Association des amoureux du livre pour le Développement Local, Cameroon and by video participation, Luz Malibiran, Community Organizers Multiversity, Philippines. All of these organizations lead the campaign for the promotion and protection of economic, social and cultural rights (ESCR), especially the right to adequate shelter, in their various countries.
At the meetings with the UN-CESCR, the UN Special Rapporteur on the right to adequate shelter and the staff of the Office of the High Commissioner on Human Rights (OHCHR), Ms. Obinyan provided an informed perspective on the housing sector in Nigeria. Housing rights within the context of urbanisation in Nigeria comes against the backdrop of multiple challenges such as a housing deficit of 17 million units, widespread urban poverty, proliferation of informal settlements, also called slums, and pervasive deprivation of basic social amenities. In order to address informality and the associated social inequalities, policies need to shift from economics to rights and opportunities. Targeted policies promoting the provision of adequate shelter and access to basic amenities for citizens, particularly, vulnerable groups (the poor, women, youth, persons living with disabilities etc.), are crucial. More tellingly, policy shifts need to be matched with innovative programs that expand access to social and economic opportunities and encourage self-sufficiency.
Constitutional amendments are necessary to propel the needed policy shifts. For instance, Chapter 2 (Section 16) of the Constitution of the Federal Republic of Nigeria, 1999 (CFRN) recognized housing as an objective principle of state policy, and not as a fundamental human right. This categorization of housing as a mere aspirational policy contributes to the factors fuelling low official commitment to housing delivery. SPACES FOR CHANGE conducted a research that gauged government's commitment to the provision of shelter by examining budgetary allocations to housing development in Imo State (South-Eastern Nigeria) from 2010 – 2017. The research compared budgetary allocation for housing development within the period to the actual number of units added to the housing stock in the State. Findings showed that official spending on housing infrastructure titled towards projects that benefit government or public institutions rather than mass and pro-poor housing. The above findings informed two high-level capacity-building workshops targeting state executives and policy makers In Imo State, with a focus on inclusive and transparent budgeting for housing delivery.
On housing rights within the context of environmental degradation and climate change, SPACES FOR CHANGE's housing and urban governance program primarily pushes for the protection of the rights of informal communities to adequate shelter and right to the city, in the face of environmental degradation and impacts of climate change. World Bank reports say two out of three Lagos residents live in slums. Some of the areas called slums were built on waste-dumps, and on account of that, threatened with slum clearance and mass evictions carried out in the name of urban renewal and sanitation improvement. Apart from sanitation-linked mass displacement exercises that render thousands homeless annually, Nigeria is also exposed to extreme weather events, such as floods, droughts, sand storms and heat waves. A preliminary inventory conducted under NEWMAP identified 6,000 sites with degraded land, including both gully erosion and landscape contexts of dry lands, a number far beyond what a single-project resources could address." -RESULTS BRIEFS APRIL 18, 2019, (World Bank Group at https://www.worldbank.org/en/results/2019/04/18/building-climate-resilience-experience-from-nigeria accessed in February, 2020) Building Climate Resilience: Experience from Nigeria.
As part of the speakers' tour, Ms. Obinyan visited UrbaMonde, an organization progressively reoriented towards risk prevention and improving "urban conditions" for vulnerable populations by a transversal territorial approach. UrbaMonde has ongoing projects that support housing cooperatives in Geneva through processes of planning with specific attention to housing models, budgets and architecture. Participating in the various high-level discussions during the tour afforded S4C an opportunity to channel the needs and priorities of the urban poor in the global south in global development discourses. Working together with actors around the world, the organisation  will continue to clamour for inclusive and safer cities in line with the Sustainable Development Goal 11, which aims to "make cities and human settlements inclusive, safe, resilient and sustainable".