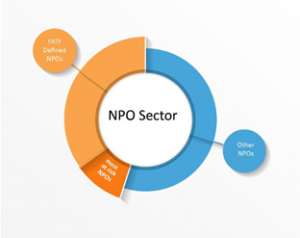 The Economic and Financial Crimes Commission (EFCC), through the Special Control Unit Against Money Laundering (SCUML), in collaboration with the Technical Working Group of the NPO Risk Assessment, is undertaking the most comprehensive terrorism-financing risk assessment of the non-profit (NPO) sector in Nigeria, in line with the requirements of the Financial Action Task Force's (FATF) Recommendation 8 and Immediate Outcome 10. The aim of the risk assessment exercise is to get an accurate picture of NPOs that are likely to be "at risk" of terrorist financing.
Paragraph 8.1(a) of the FATF Methodology states that countries should "identify which subset of organizations fall within the FATF definition of NPO". FATF defines the term NPO to cover "a legal person or arrangement or organization that primarily engages in raising or disbursing of funds for purposes such as charitable, religious, cultural, educational, social or fraternal purposes, or for the carrying out of other types of "good works."
SCUML, in collaboration with the Technical Working Group of the NPO Risk Assessment, organised a virtual workshop where NPO representatives and security agencies examined the FATF guidance on 'FATF NPOs' and the scope of R8 Risk Assessments. Together, they sought to identify which NPOs would meet the FATF definition and should be included within the scope of this risk assessment. The two technical experts appointed by the Nigerian government, Ben Evans of GreenAcre Associates and Victoria Ibezim-Ohaeri of Spaces for Change facilitated the workshop.
As determined during the sector-wide definition exercise held on January 19, the kind of non-profit organizations expected to take part in these consultations include formal and informal groups, (including legal arrangements) engaged in different types of good works such as expressive advocacy, service-provision, humanitarian assistance, religious and faith-based activities, corporate social responsibility, charitable entities linked to politically-exposed persons, host community trusts established under the Petroleum Industries Act, networks and coalitions, donor agencies and philanthropic foundations.
As part of the risk assessment exercise,  a multistakeholder delegration comprising EFCC/SCUML and the Technical Working Group of the NPO Risk Assessment will be meeting with representatives from government, civil society, and financial institutions across all the six geographical regions as follows: